Are you familiar with Christmas Crack Candy? It's also called saltine toffee. All it is is a toffee made with butter and brown sugar, poured onto saltine crackers and topped with chocolate.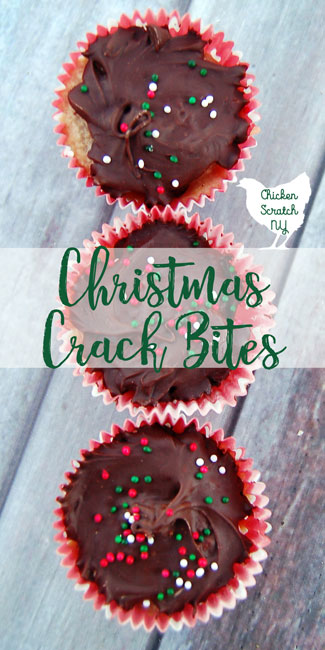 If you haven't had it you're in for a real treat. It's delicious and addicting. It's also pretty ugly once it's broken up and when you handle it your hands get chocolaty. Not something I'm looking to provide with my Christmas cookie trays.
I was digging around looking for a cookie sheet when I found my giant mini-muffin pan. You may have seen one like it at Joann's or Michael's, it has 48,000 mini cavities (or 48) and they pop up a lot around the holidays. I'm not really a muffin maker but I had a coupon so now I have a muffin tin that can feed a mini army.
Even though I don't make muffins that often (my Mom's Zucchini Pineapple Muffins are the only exception) I have used it for quite a few batches of no bake cookies. Popping in mini-muffin wrappers and spooning in to no bake cookie dough is easy and really quick.
As a bonus it's something to do while the oven is in overdrive making dozens and dozens and dozens of cookies. You may be wondering why I'm complaining about chocolaty hands and my ownership of a giant muffin pan all in one post?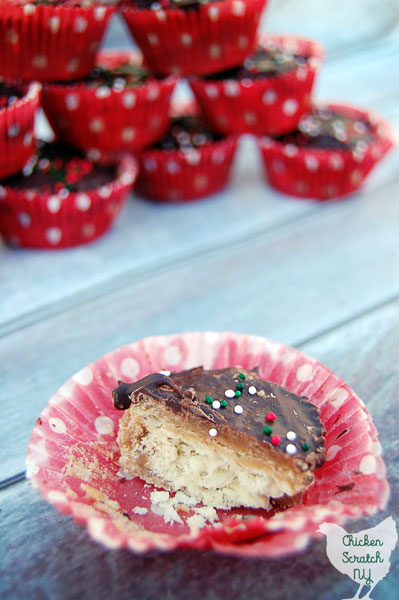 The answer to that is, mini Christmas Crack Bites. It's a tiny bit more work because you have to do things 18 little times instead of once but it's worth it.
The only difference in ingredients is swapping out the regular saltines for mini-saltines. The rest is the same as the original version. And in the end you get bunches of delicious bite sized Christmas crack candies!
The only trick, if you can even call it that, is to make sure the toffee is cooked enough that it solidifies and doesn't stay wet. Even if you pull it off the burner too soon they still taste good but they're a little messier to eat.
I let my 4 year old help me with the saltines, we tried to get in each cup but a few skated by with more or less. I found there were two different shapes in the mini-saltines box.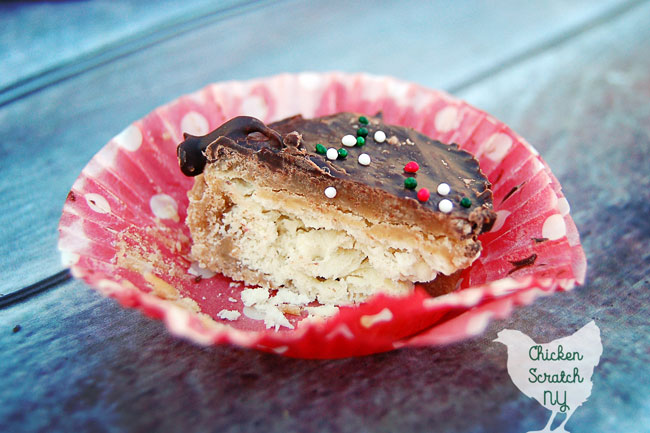 Try to get the square ones on the bottom then use the rectangle ones on top. It's not a life or death situation but it will help the bottoms of the cookies stay flat.
Heat the butter and sugar slowly. It's done when the color has darkened, the sugar is all dissolved and the bubbles look like they're struggling.
Move pretty quickly between pouring the toffee and topping with the chocolate. Ideally the heat from the candy will melt the chocolate. If it doesn't you can pop them under the broiler very quickly.
I smoothed out the chocolate with a small off set spatula before topping with some sprinkles from my overgrown collection.
Yield: 18 pieces
Christmas Crack Bites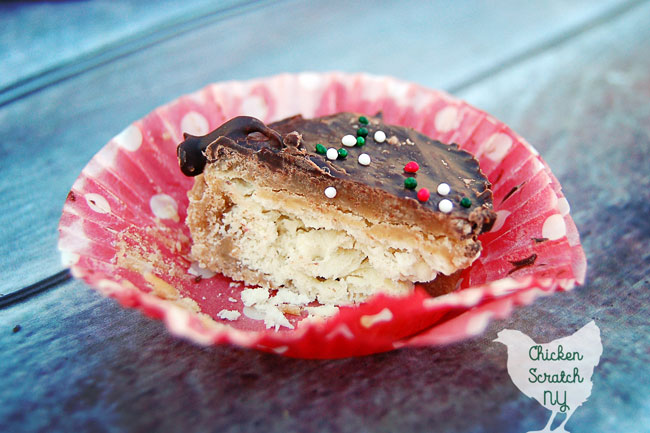 Get everything you love about Christmas Crack in bite. Just as addicting as the original but easier to store and give away to friends & family
Ingredients
Mini saltines
1 stick of butter
1/2 cup brown sugar
18 teaspoons of mini chocolate chips *Don't bother measuring out in advance
Holiday sprinkles, optional
Instructions
Line 18 mini muffin cups with paper wrappers
Place 3 mini saltines in each cup
Melt butter in a small saucepan and add brown sugar
Cook over medium low stirring continuously. Butter may appear to separate but keep stirring until everything is combined
When toffee is bubbling, darkened and thick remove from heat and divide among the muffin cups
Immediately top each cup with a teaspoon of mini chocolate chips
When chips have melted (they will change color when melted) smooth out with the back of a spoon
Top with sprinkles immediately
Allow to cool and harden completely in the pan
Recommended Products
As an Amazon Associate and member of other affiliate programs, I earn from qualifying purchases.
Check out my
Dessert page
for more recipe or start here: