Onion dip is a classic for a reason, does anything taste better on a greasy ruffled potato chip than Heluva Good French Onion Dip? I think not. However I'm an adult now and potato chip binges are quite rare. So I've traded in my beloved Heluva Good for this homemade Caramelized Onion Dip.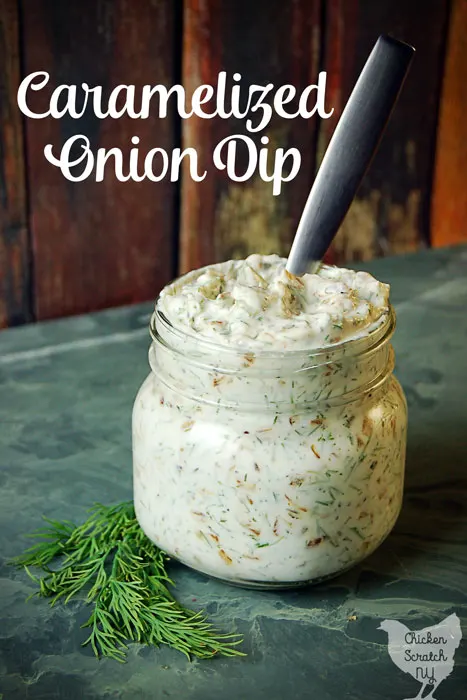 This is a great recipe to have on hand for a party or every day. It's not hard to make, the most involved part is caramelizing the onions. It's not hard but it takes a while, I usually do it while I'm washing dishes. Keep the heat on med-low and stir occasionally making sure not to burn the onions. They'll reduce in volume quite a bit and turn a beautiful, rich brown. As with everything in my life, I use a cast iron skillet for this.
You can serve this with chunks of pumpernickel bread, pita chips or veggies as an appetizer. It's also great used like mayo on a sandwich. You can even mix it with shredded chicken for a quick chicken salad, wrap it up in some lettuce and you have a delicious lunch.
The base for this is Greek yogurt. Make sure you use plain yogurt. I'm pretty adventurous with my flavor combinations but vanilla, dill and caramelized onions seems more like a reality TV wedding than a harmonious marriage.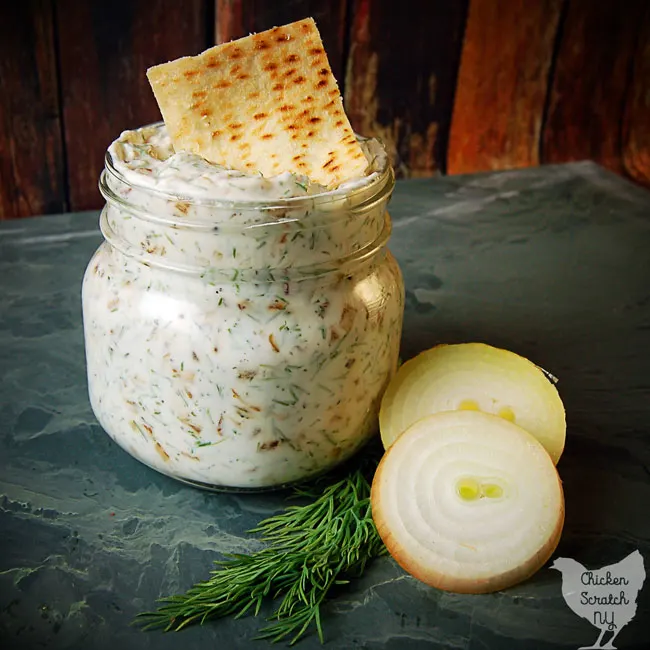 Plain Greek yogurt is thick and a bit tangy. I use Friendly Farms (Aldi's house brand) non-fat Greek yogurt. It's milk and active cultures, the good stuff!
I always have an excess of onions in my house. It seems like they're always on sale and I can. not. keep a mental inventory of my kitchen. I tend to buy what ever is a good deal but I like yellow onions more than white. Use whatever you have.
You can find dill in the produce section of the grocery store. I've seen it sold in large bunches like parsley and in those little plastic containers. I usually keep a punch of dill in my fridge, it's my boyfriends favorite food and he just eats it. He's an odd duck. Probably why he likes me 😉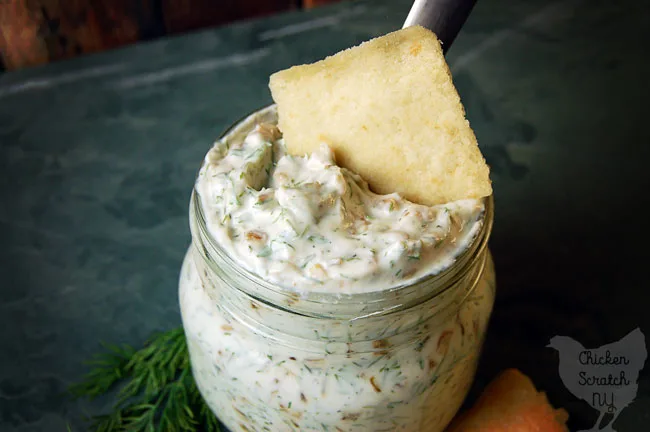 During the summer I try to grow lots of dill. It's a favorite food for black swallowtail caterpillars. I have the best luck when I let it reseed itself, for some reason I always struggle to get it to grow where I want it.
This recipe is adapted from the caramelized onion dip recipe in my favorite cookbook The Rodale Whole Foods Cookbook. If I have to give up my extensive cookbook collection for one, that's the one I'd keep.
Yield: 1 Cup
Caramelized Onion Dip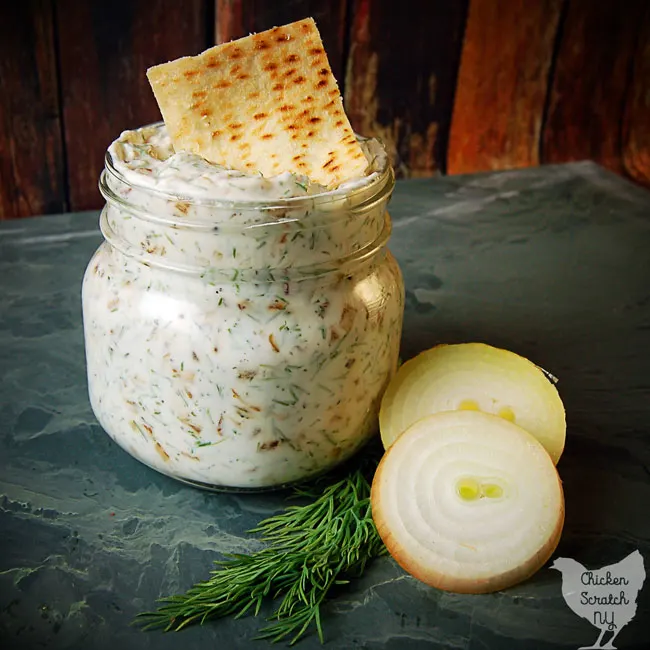 Caramelized onion dip combines tangy Greek yogurt, sweet caramelized onions and fresh dill for a delicious dip. It's just as good on a chicken sandwich as it it on chips and comes together easily with only a handful of ingredients
Ingredients
1 Tbsp Coconut Oil
1 Cup Onion, diced
3/4 Cup Plain Greek Yogurt
1/4 Cup Fresh Dill, chopped
Salt & Pepper, to taste
Instructions
Melt coconut oil over medium heat in a skillet
When pan and oil are heated add onion and reduce heat to med-low
Stir occasionally and cook until onions are soft and brown
Transfer onion to mixing bowl and set aside to cool to room temperature
Stir yogurt and dill into the onions, season with salt and pepper
Notes
When you first make this dip it's very bright white, overtime the color from the onions turns the yogurt off white or tan. At that point it tastes even better!
This makes about a cup of dip, double if making for a party.
Recommended Products
As an Amazon Associate and member of other affiliate programs, I earn from qualifying purchases.
Other Recipes to Try: