Buttermilk Cornbread may seem like an odd choice for a dessert but I'm pretty odd in general. I'm not a big fan of super sweet flavors and most of my Dessert Recipes reflect that.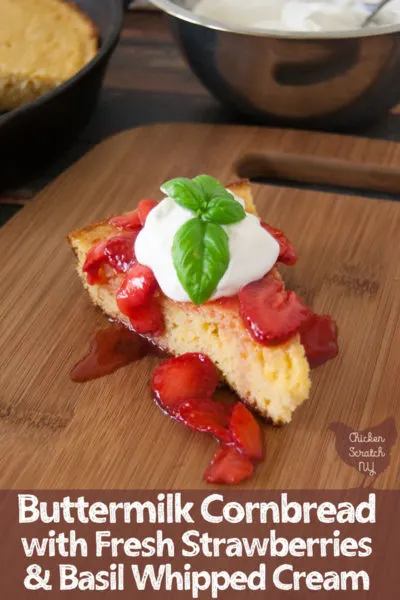 Honestly I'm not sure if this is really a dessert recipe, maybe it's a breakfast or dinner treat. What I do know is that it's freaking delicious.
It combines the dense, moist buttermilk cornbread (cooked in hot cast iron for best results!) with fresh strawberries and the most deliciously herbal basil whipped cream. That probably sounds like a very fancy pile of odds and ends but trust me it works.
There's a little bit of prep work needed, mostly for the whipped cream but the strawberries will also benefit from a overnight rest. You don't need anything special for this recipe but a small cast iron skillet, a mixer and a few mason jars with plastic lids will make life easier.
Get the whipped cream started the night before by busing some basil. Just squish it up a bit to get the oils flowing.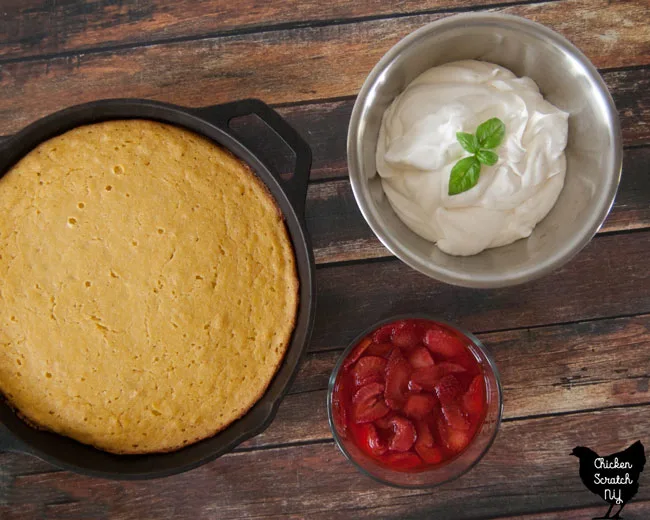 I used the top sections I pinched off the green basil plant in my Tomato Basic Container Garden. Don't bother chopping it up, the leaves don't make it into the finished product.
Pour in the heavy cream, add the lid and give it a shake. Pop it in the fridge and let it sit over night.
On to the strawberries! Remove the stems, I actually picked up a strawberry huller at Aldi's this summer and I've been using it a lot. I'm not sure how much time it saves but I feel like I'm wasting less berry than with a knife.
Use a sharp knife to cut them into thin slices. Sprinkle with sugar and give them a quick stir. Put them in another mason jar or in a bowl with a lid and set them in the fridge too. The sugar will pull some juice out of the berries making a nice sauce.
Now it's time for the cornbread. The biggest secret is to toss the pan in the oven while it's preheating. When you pour the batter in to a hot pan you'll hear a nice sizzle and get an amazing crust on the bottom.
When you're cooking with buttermilk remember to shake it up! I forgot and poured out this very milky thin liquid. Not exactly what I was going for.
When you pull the cornbread out of the oven let it cool in the pan. You can serve it warm, it's delicious that way too but be warned the whipped cream will slide all over 😉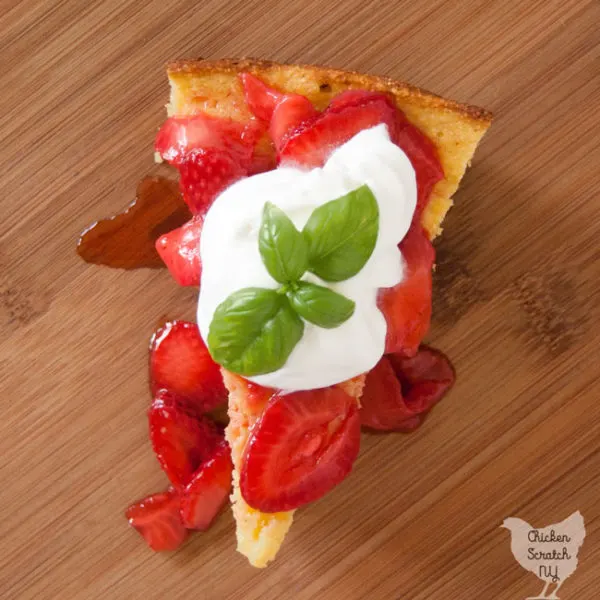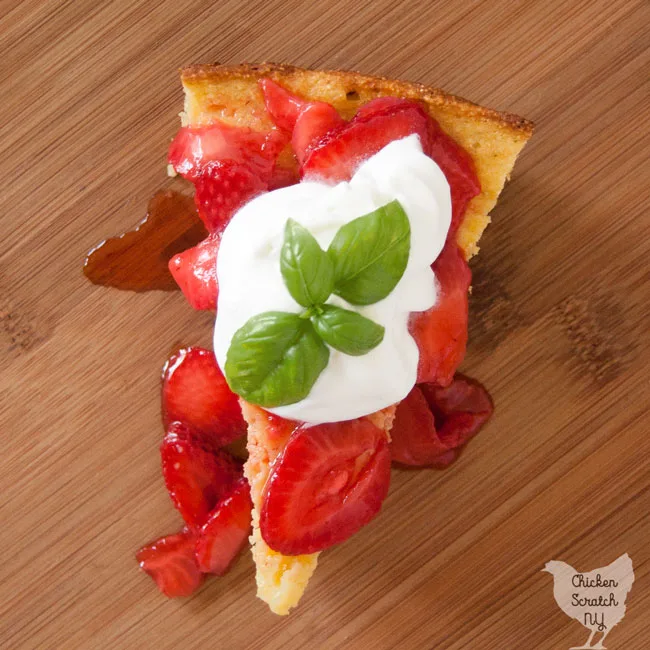 While the cornbread is cooling it's time to make the whipped cream! My mom swears you need a cold bowl to make whipped cream. It's definitely a big help but I rarely have room in my fridge or freezer for a giant metal bowl so I'm usually working with room temp.
Pour the cream into the bowl though a mesh strainer to remove the basil. Don't worry all the basil-y goodness is infused in the cream. Add in the vanilla and turn on the mixer.
I kept my whipped cream on the softer side and I didn't sweeten it. You can easily add a little it of sugar if you're more of a sweets person than me.
Serve slices of cornbread with a spoonful of strawberries and a dollop of basil whipped cream. Then spend the rest of the night arguing over whether or not it's a dessert.
Don't forget to PIN this to your recipe board! Stay tuned for more strawberry goodness all week long!
Buttermilk Cornbread with Fresh Strawberries and Basil Whipped Cream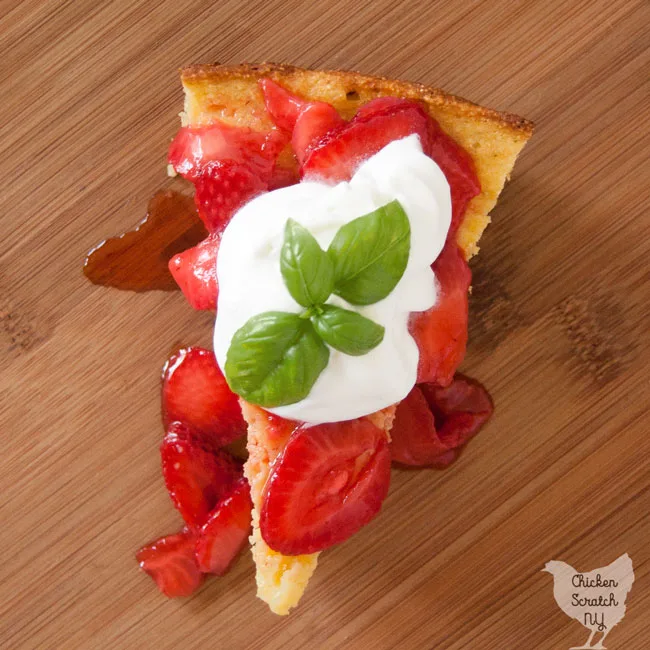 Sweet and moist buttermilk cornbread is the perfect complement to fresh strawberries and basil infused whipped cream.
Ingredients
Strawberry Sauce
2 cups strawberries, thinly sliced
1-2 tbsp sugar
Basil Whipped Cream
1 cup heavy cream
small handfull basil leaves
1/4 tsp vanilla extract
Buttermilk Cornbread
1 cup flour, I use King Arthur White Wheat
3/4 cup cornmeal , I use Coarse
1 tsp baking powder
1/2 tsp baking soda
3/4 tsp salt
1.25 cups buttermilk
2 eggs
2 tbsp honey
1/4 cup butter, melted
Instructions
Strawberries
Sprinkle sugar over the strawberries and gently stir. Set aside for a few hours or over night
Basil Whipped Cream
Bruise the basil by rolling it gently in your hands. Put the basil in a glass jar and top with the heavy cream.
Put a top on the jar and give it a shake. Pop it in the fridge overnight
While the cornbread cools remove the basil and pour the heavy cream into your mixer bowl.
Add the vanilla and whip the cream on high until soft peaks form
Buttermilk Cornbread
Place skillet in the oven and preheat to 400
Whisk together flour, cornmeal, baking powder, baking soda and salt.
In a separate bowl whisk together buttermilk, eggs and honey. Stir in melted butter.
Pour wet ingredients into the dry and fold together until everything is moist, don't over mix
Carefully remove pan from the oven and pour in the batter. It should sizzle!
Bake for 20-22 minutes until lightly browned.
Allow to cool slightly before serving warm or serve cold.
Check out my Recipes Page for more ideas or start here: