I've got cabin fever, it's been FREEZING for the last few days, way past stupid cold – it was NEGATIVE 12 when I left for work Thursday. My illness has manifested in the need to paint everything. First up, the bookcases are getting a make over. I know I just painted them and I love the color but…. they blend in too much with the walls. I've got big plans for the wall behind the buffet so for now it's safe with its pretty mustardy yellow paint.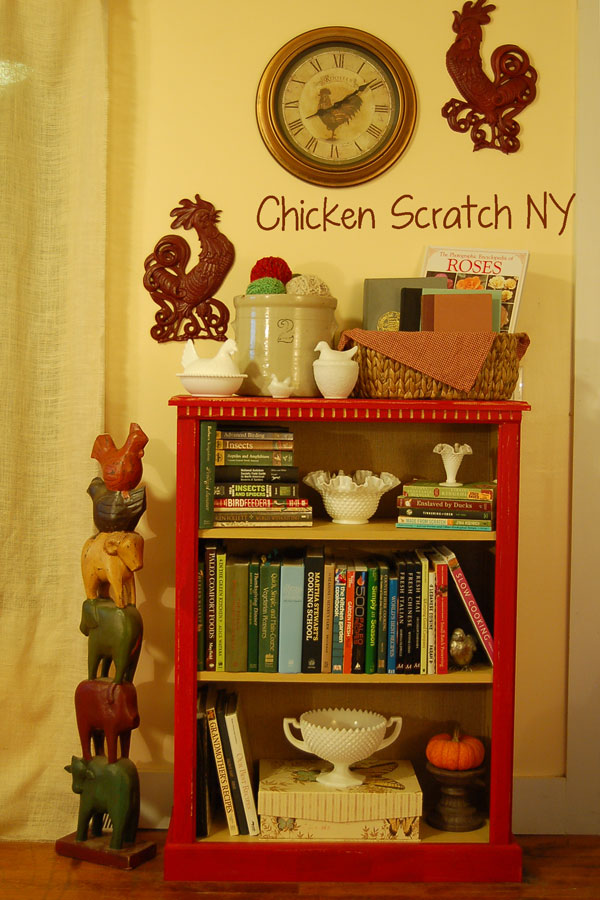 I've been gradually bringing in darker colors, painting the dining room deep rusty orange and the bedroom deep blue (some day I'll even show you my bedroom!). I knew I wanted to paint the bookcases and I knew I wanted to paint them barn red. So on our weekly trip to Lowe's I skipped over to the paint department and started looking for a nice red. As a semi-qualified farm girl (my barn is blue) I knew what I was looking for. I didn't want burgundy, I didn't want brown and I didn't want pink. I wanted red, barn red. After much searching (my husband wanted to know why I had so many identical colors, he also thinks our yellow living room is white) I settled on Valspar Heirloom Red.
After taking everything off I gave it a quick dusting. I was covering DIY chalk paint with more DIY chalk paint so no sanding was necessary. I painted it in the middle of the living room, I sat it on two paint cans to keep it off the ground. After pouring about half a paint sample jar into a plastic container I added plaster of Paris.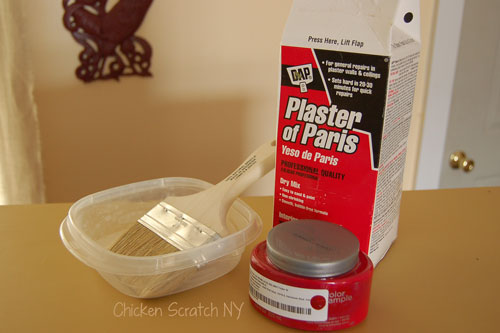 I stirred it all up with my paintbrush, the longer it sits the thicker it gets. The top and sides are almost completely covered, I did leave a little yellow showing through on the top. I kept the shelves yellow and scratched some of the red away to show the yellow.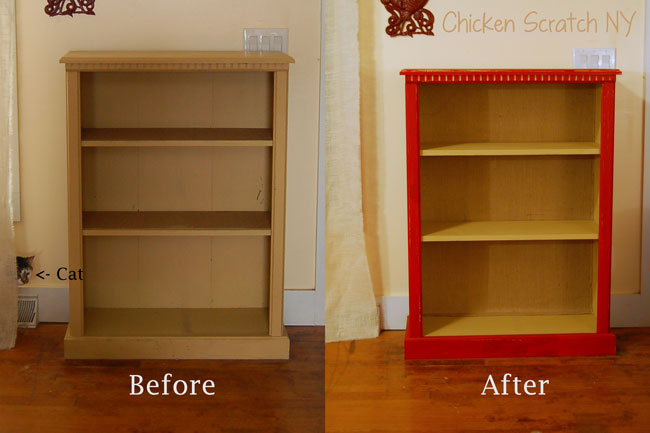 While it was all ripped apart I decided to fancy up the background. Because this is just a cheap-o laminate bookcase the background is actually really thin press board. It was starting to bow and didn't look very nice, even with its spiffy paint job. Out came the spray glue and more wedding burlap (this stuff was under my cake extravaganza!). After replacing the shelves I touched up the insides where the paint had scraped off while fighting with the shelves.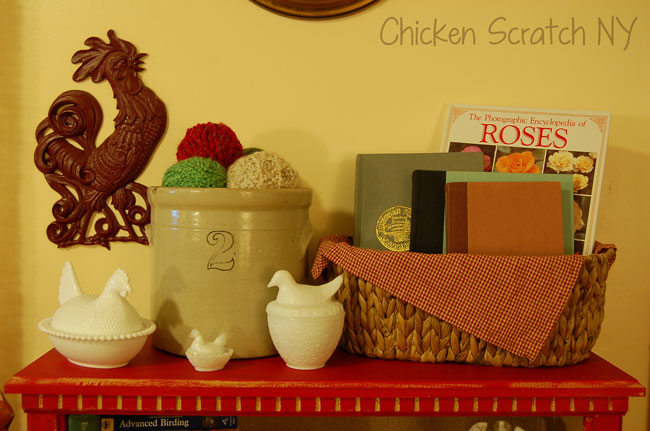 Finally, it was time to put all my junk back. Cookbooks, milk glass and the ring bearer pumpkin (it's still going strong!) completed the look.