Brie is a mild flavored cheese that melts beautifully and lends itself perfectly to spooning over crusty bread. Baked brie is one of those fancy sounding treats you reserve for the holiday meal even though in reality it's not hard or expensive to make.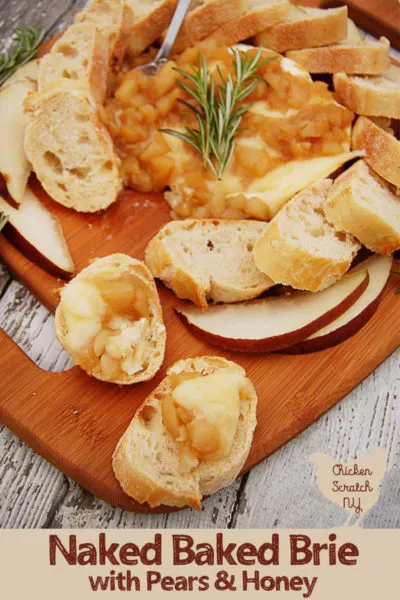 I've made it in the past with cranberries, walnuts and maple syrup all wrapped up and cooked in a shell of puff pastry. This year I wanted something different so I ditched the puff pastry and switched up the fruit to make a Naked Baked Brie with Pears & Honey.
If you read my Jalapeño Popper Pinwheel post from earlier this week you might have seen my rant about puff pastry. It's too expensive for my life at the moment.
I also didn't see the need to wrap cheese in bread just so I could eat it on more bread. There are plenty of carbs I'd rather be filling my plate with at any holiday party like Pumpkin Gingerbread.
Speaking of serving, I cut up a freshly baked french baguette from the grocery store bakery. It was even warm when I grabbed it from the store. Any crust bread is going to be delicious with this.
Cut up an extra pear for dipping into the cheesy goodness. To keep the pears from turning brown dunk them in a bowl of water with a bit of citric acid sprinkled in, lemon juice will also do the trick if you are out.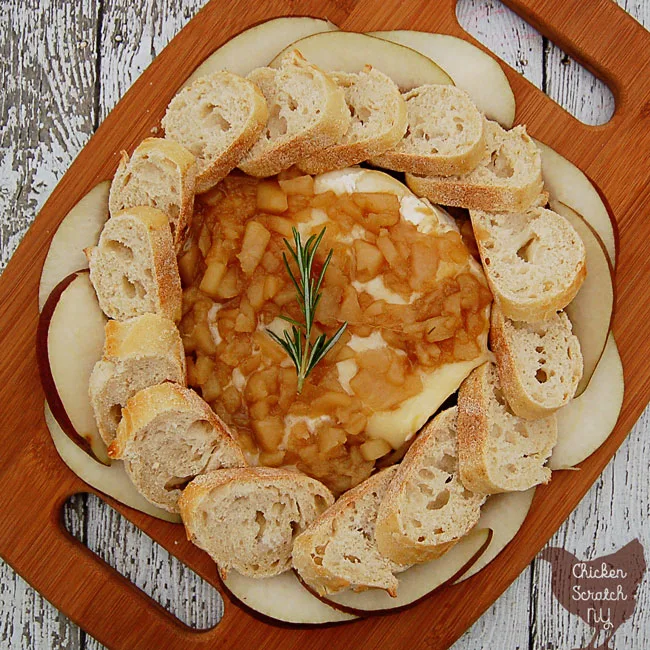 Personally I think pears are underrated. Probably that whole "I'm only perfectly ripe for 35 seconds and you're going to miss it" thing they have going on. But I love them enough that I have four pear trees planted in my orchard.
Pears have a nice texture and a mellow flavor that lends itself nicely to a chunky pear sauce. All it takes is a little water, rosemary and some honey to get a sweet and herby sauce. Pears cook down like apples and make a nice sauce with a little bit of effort.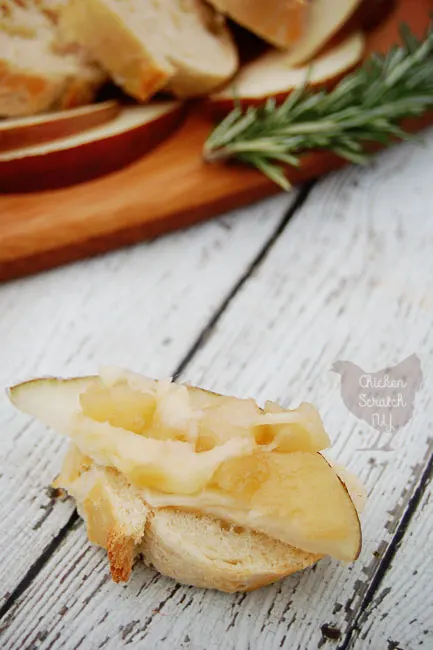 I used red d'Anjou pears because they were on sale. D'Anjou pears are available from October through to June so they are a perfect fit for a holiday dish.
The smooth, deep red skin is also very nice for the holidays, you could even mix it up and serve the red version along side the green.
Don't forget to PIN this to your Appetizer or Holiday board!
Baked Brie with Pear, Rosemary & Honey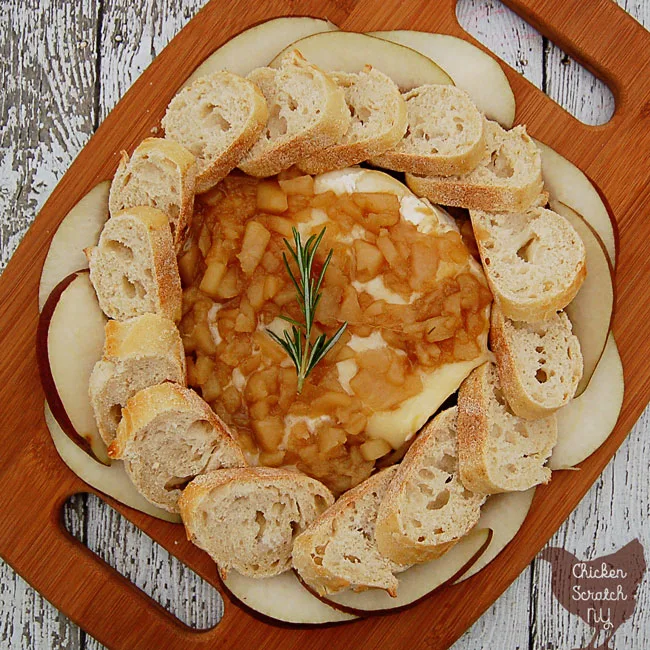 Top a round of warm baked brie with a chunky pear sauce made with fresh rosemary and honey. Serve with crusty bread or pear slices.
Ingredients
8 oz wheel of brie
1 red d'Anjou pear, peeled, cored & roughly chopped
Tablespoon of honey
2 inch sprig of fresh rosemary
Bread & pear slices for serving
Rosemary for garnish
Instructions
Preheat oven to 375
Combine pear, honey, 2 inch piece of rosemary and a few tablespoons of water in a medium saucepan over medium-low heat
Cover and bring to a simmer. The steam will cook the pears and they'll release more water as they cook
When pears are soft (15-20 minutes) remove lid and discard rosemary, crush pears with a potato masher
Reduce heat and continue to cook pears until the liquid is gone and you have a chunky sauce
Carefully slice the top of the round of brie. Do a better job than I did or your brie will also ooze all over the cutting board
Place the top back on the brie and heat in the oven for 10-15 minutes until the cheese is soft
Remove cheese from the oven and carefully transfer to a cutting board or serving dish. Remove the top
Pour pear sauce over warm cheese. Surround with bread and pear slices and garnish with fresh rosemary
Check out my Recipes Page for more ideas or start here: