It may seem like a really odd time to think about Christmas shopping, with all the craziness of school shopping and lunch packing. But it's actually a great time to get prepped and an even better way to save money.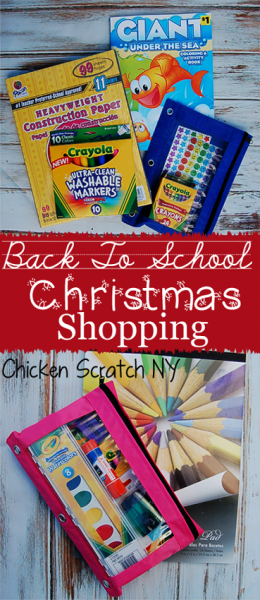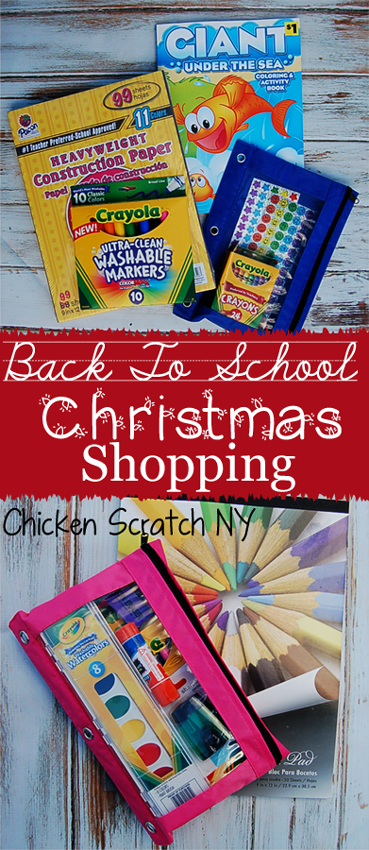 This is the time of year when art supplies are at rock bottom prices. A few years ago there was a population explosion in my family, we went from 1 kid to 10 in a few years. That's a lot of Christmas gifts. I'm not a big fan of going into debt for the holidays but I like to give gifts so I had a problem that needed solving. I also have an aversion to 'toys' I prefer things that require imagination like stuffed animals or… art supplies. See where I'm going with this?
All you need is a list of the kids, ages and general interests before you hit the stores. If you have a lot to buy for it's easier to make a list unless you want to end up scouring the aisles for a matching notebook 3 months later (not that I've done that).
My plan for this year: Little Ones – I've got two 3 year olds on my list this year. They'll be getting: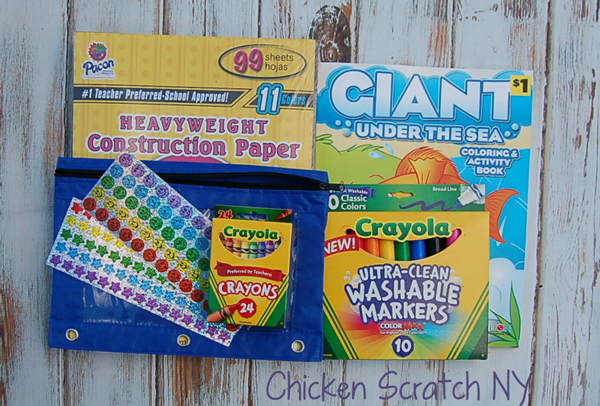 Large pack of construction paper
Washable chubby markers
Crayons
Coloring books (probably won't find these on sale but Dollar General usually has some good ones for $1)
Big Kids – There are 4 of these ranging from 6-11. They will be getting: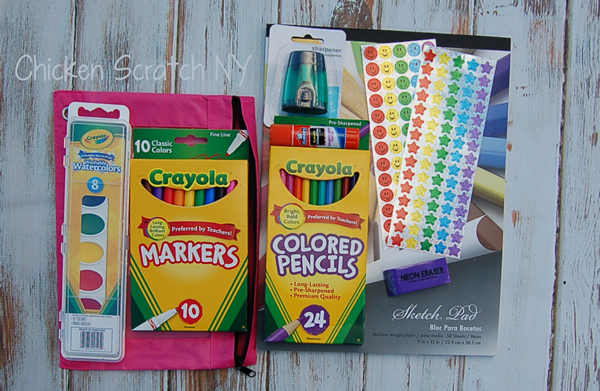 Pad of sketch paper
Watercolor paint palette
Skinny markers
Colored pencils
Pencil sharpener
Bright eraser
Glue stick
Each one will also be getting a zippered pencil pouch to hold all the little stuff, surprisingly all the stuff for the older kids (except the paper) fit in the little pouch. The chubby markers don't fit in the boxes but will once they're out so it's fine in the end. When I was picking up the coloring books I grabbed two packs of stickers, each had 6 sheets so it worked out perfectly for me. Last year I got each one a simple backpack (I bought 6 different colors of this Port Authority Basic Drawstring Backpack

*affiliate link*) but I'm not quite sure how I'll be wrapping them this year.
Other options for art supplies:
Scissors (each of these houses has a baby/toddler in it and I didn't want to be responsible for that)
Stencils
Glitter glue/pens
Finger paint
Foam stickers
It's an easy gift to customize, you can personalize it with each child's favorite color or even character. You can go small and get a few boxes of crayons for stocking stuffers or go all out and fill up a box.
If you're anything like me it's a good idea to put your early gift purchases somewhere easy to find. Like in the box with your Christmas ornaments, somewhere you'll find them in time to wrap them up and give them out.