Chocolate covered strawberries are a Valentine's classic for a reason. They're so good! But it's always struck me as bad timing based on how difficult it is to find a decent strawberry in New York in February. That's why I came up with a recipe for Swirled Chocolate Strawberry Bark.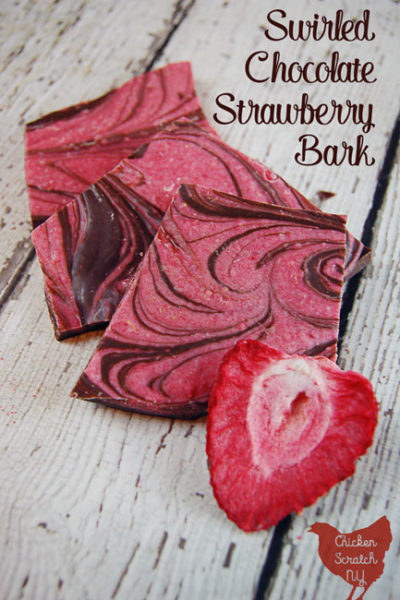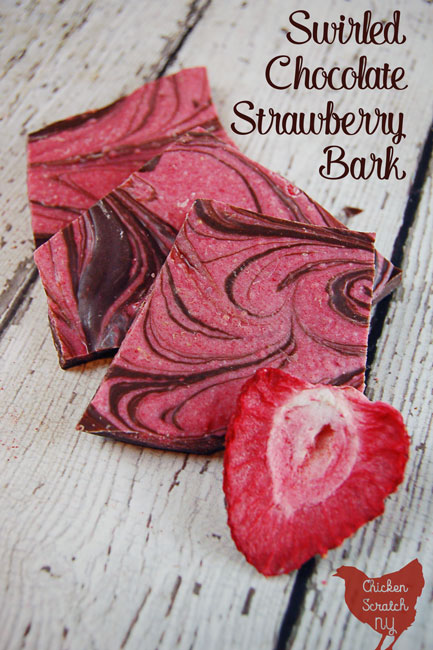 I wanted to have a real strawberry flavor in the chocolate bark. Artificial strawberry has it's place and it's in those strawberry hard candies that Grandmas always have. When I'm not walking down memory lane I'll go for the real thing.
Turns out it wasn't that hard to get the strawberry flavor into the chocolate! I used the freeze-dried fruit technique from my recipe for Blueberry Lemon Fudge. This time I used freeze-dried strawberries from Aldi's. They were with the regular food so hopefully it's not one of the awesome seasonal items that disappear forever after a week.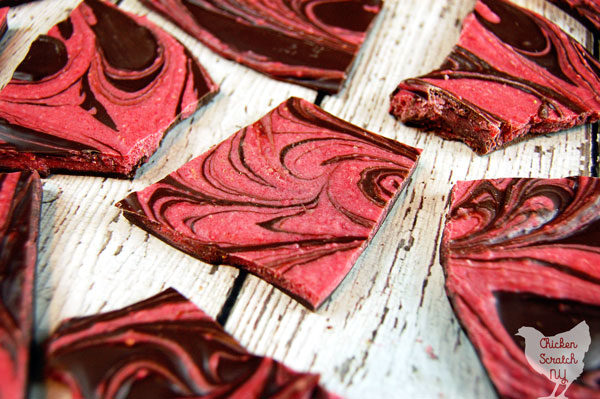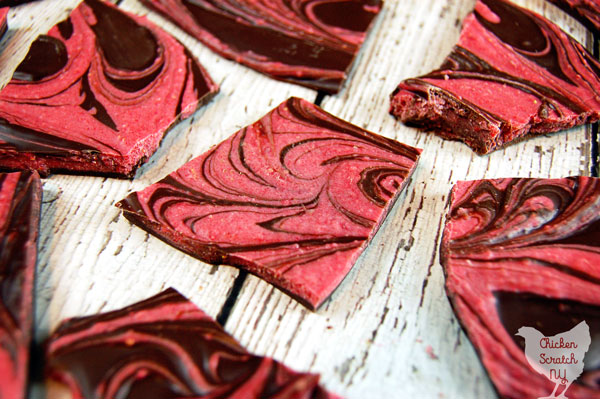 Freeze-dried strawberries have a very strange texture. They turn to powder very easily, if you don't want to pull out the food processor you can easily push the strawberries through a metal sieve. Unlike the blueberries they are a very uniform pinky-red color. The food processor does make things very dust so take care not to inhale a cloud of strawberry dust!
I went high-class with Ghiradelli melting wafers but this recipe will also work with almond bark or candy melts. You need two colors, white to mix the strawberries into and dark to make the base. The darker the better, it will give you a stronger contrast with the strawberry and just look prettier.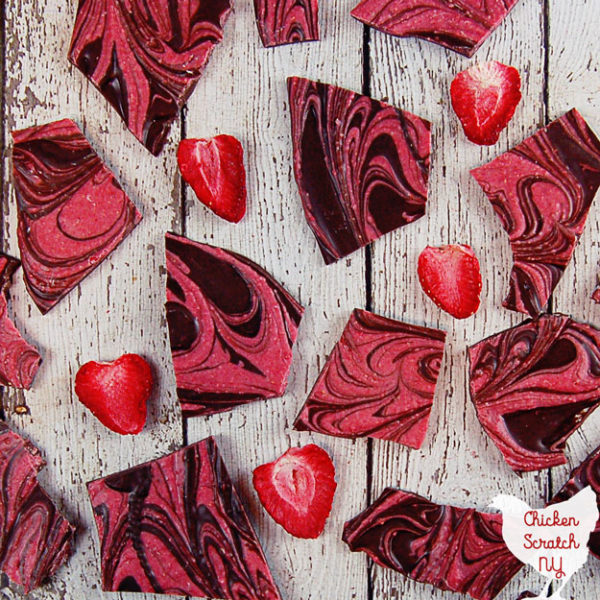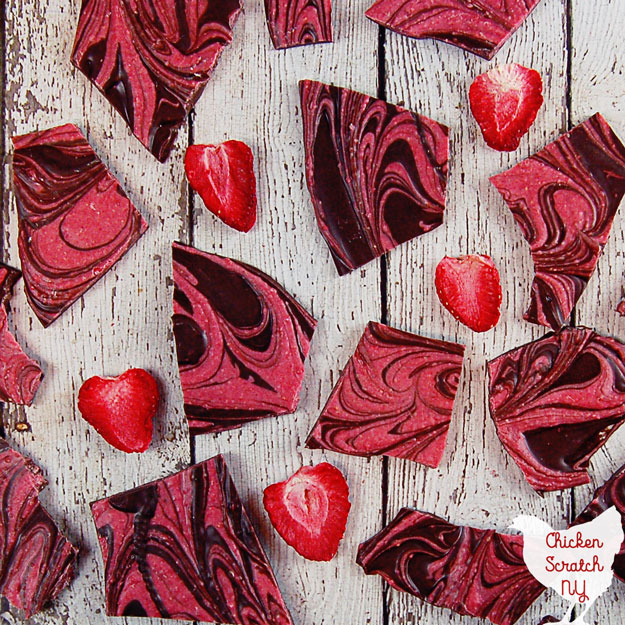 The strawberries do make the chocolate thicker and they add a bit of texture so it's not as smooth as a 100% chocolate candy but you shouldn't let that stop you! Swirled desserts are so pretty and really easy. For me the hard part is knowing when to stop swirling!
I made mine fairly thick, it's about 1/4 inch thick in most places, so I reccomend breaking it up into smaller pieces than you would with a thinner bark. It's very rich and it has a lot of flavor so you don't need a lot at all.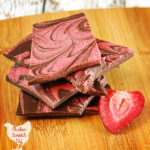 Chocolate Strawberry Bark
Forget hunting down a ripe strawberry in February, get the sweet strawberry and chocolate flavor combo in this Swirled Chocolate Strawberry Bark. It comes together quickly with 3 ingredients and a microwave so you can get back to smooching your sweetheart asap!
Ingredients
1

bag

Dark Chocolate Ghirardelli Melts

1

cup

White Chocolate Ghirardelli Melts

1

bag

Freeze-dried Strawberries
Instructions
Cover work space with parchment or waxed paper

Pulverize strawberries in a food processor until disintegrated

Melt chocolates in separate glass measuring cups, you can use anything but the pour spout makes things easier to control

Stir strawberry powder into the white chocolate, it will get thick but stir until it's uniformly pink

Pour dark chocolate on to the waxed paper and spread out (an offset spatula works great for this)

Dollop on the strawberry white chocolate and swirl with a chopstick

Allow the bark to set until solid
Recipe Notes
*Ghirardelli melts are not very hard. It won't melt at room temperature but I kept this in the fridge to keep it more solid. 
You may also enjoy: