Don't let the name fool you, this isn't your typical saccharine sweet potato dish! I prefer to save the marshmallows for s'mores and keep my sweet potatoes on the savory side.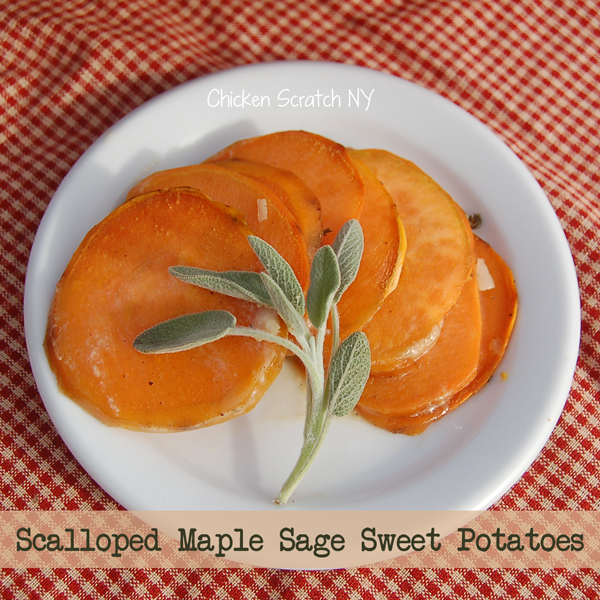 This recipe is based on a dish from the 2010 Cuisine Holiday Menus magazine. I've made exactly to the recipe for a few years but I decided to mix it up a bit. This is my favorite way to eat sweet potatoes, and it's really pretty always a plus for a holiday dish! Don't be discouraged looking at the end product, it's really not hard to make and it doesn't take a long time to prepare (assuming you have a mandolin slicer (I have the older version of the Norpro Deluxe Mandoline Slicer/Grater
* and I love it, it's going strong after 4+ years of abuse) or a knife wielding chef in your kitchen.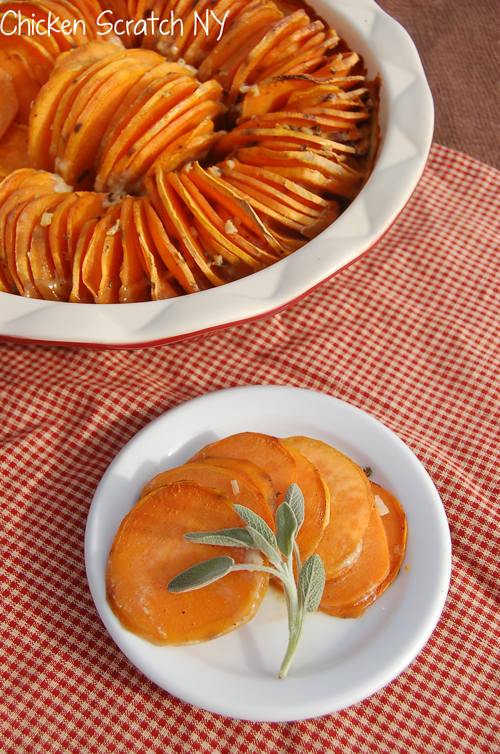 Scalloped Maple Sage Sweet Potatoes
Scalloped Maple Sage Sweet Potatoes
Author:
Alecia @ Chicken Scratch NY
Prep time:
Cook time:
Total time:
Savory scalloped sweet potato dish with a hint of maple and sage.
Ingredients
3 sweet potatoes - try to find long ones about 2.5 inches in diameter
2 tbs salt
½ tsp pepper
3 large cloves garlic, crushed
⅓ cup finely chopped fresh sage
½ cup heavy cream
¼ cup real maple syrup
Instructions
Peel and slice sweet potatoes on a mandolin, about ¼ inch thick
Toss sweet potato slices, salt, pepper, garlic and sage in a large bowl
Place potatoes in casserole dish (I use a deep dish pie plate) standing up in a ring around the edge, fill in the center with extra slices. Don't pack the slices super tight or the centers might not cook all the way through. If you have a rectangular pan make straight lines. Sprinkle any remaining sage mixture over the potato slices.
Cover with foil and bake at 400 for 45 minutes
Whisk together maple syrup and heavy cream
Remove foil and pour cream sauce over the potatoes
Return to the oven and bake uncovered for another 25 minutes or until potatoes easily pierce with a fork
Garnish with fresh sage

Check out my Recipes page for more ideas like Roasted Maple Chicken and Potatoes: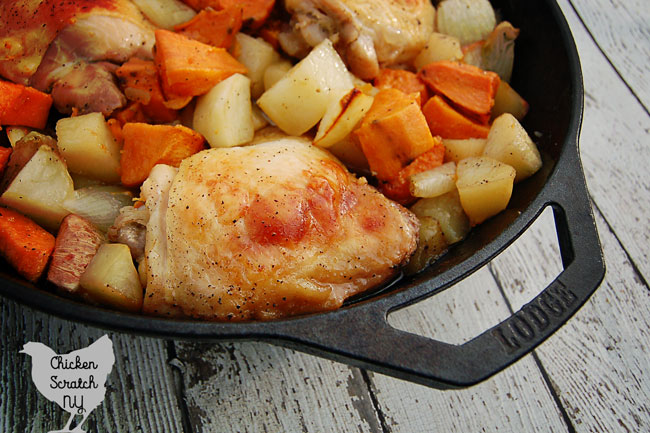 Save