If you knew me in really life you would be incredibly confused by my decision to review The River Cottage Booze Handbook
for Blogging for Books (they sent me a book for free so I can tell you all about it). My husband is 5 years sober and I drink alcohol maybe 5 times a year. BUT making wine, cider and infused liquors is a really traditional way to preserve the harvest. And I'm all about preserving the harvest. Not to mention alcohol makes an awesome gift!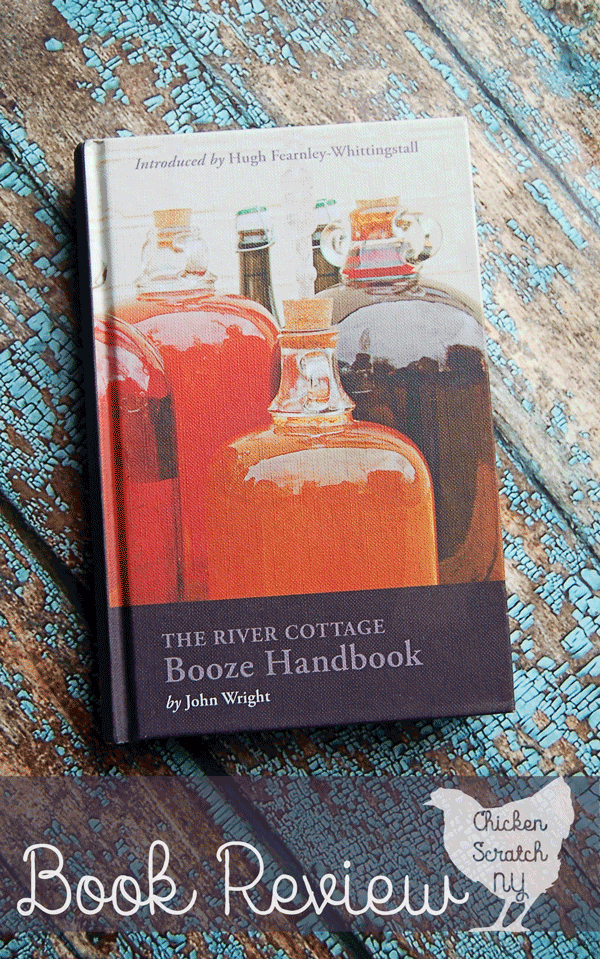 I started getting interested in homemade libations last summer when I found a recipe for Lacto-fermented Honey Rhubarb Soda. While not strictly an alcoholic beverage it does get a bit of a kick from the fermentation, especially if you let it sit for a while. When I saw The River Cottage Booze Handbook pop up on the list of available books I was immediately excited. First because it included the words "The River Cottage" and second because its a cookbook for booze and I have some of those fancy flip top bottles
! It couldn't be more perfect.
The recipes are separated into a few sections, the first one is for infused alcohols. This is the very beginning, baby-step, basic into to making fancy alcohol. The recipes in this chapter start with some type of basic purchased alcohol (vodka, gin, whiskey) and you add something to it, let it sit, strain and enjoy. I suppose you could mess something up but you're going to have to try pretty hard. I really wanted to try the blackberry whiskey (my preferred sippin' beverage is honey whiskey) but I misplaced the book and forgot all about it. That brings me to my only problem with the book, it's small. I lost it on my bookcase because Mary was able to push it so far back that it got stuck behind the other books. I haven't been bothered by it but it also has small text.
After the chapter on infused alcohol are sections on Wine, Hard Cider and Beer. Unlike the infused liquors these recipes are way more involved. Lots of sterilizing and equipment. I'm hoping I'll be able to scratch together enough supplies to experiment with a batch of dandelion wine this spring. It seems like a good intro, if it's awful I've only wasted a bucket of flowers, not a ton of fruit! The instructions are clear and easy to follow, some steps even have photos to follow along with. The author has a very friendly voice, the book is full of his experiences and lots of do-as-I-say-not-as-I-do advice. He is also making his booze in England so some terminology is a little bit strange but it's not off putting and I've never found it to be confusing or unclear.
I'm hoping that in a few years out apple trees will be filled and we'll be able to try our hand at sweet cider and hopefully a little bit of hard cider. I don't like beer at all but I'll drink the occasional hard cider in the fall. I even have my eye on a few old cider type apple trees that aren't good for anything but cider.
I really do like this book even though I haven't been able to do a whole lot with it I can see myself using it a lot through the coming years as I get more confident in my skills and I hope I can live up to my ambitions. If you're looking for a book that's going to introduce you to art of making booze at home this is a great place to start.