We're trying Saffron again! The first round was a few years ago and it didn't survive the chickens. I ordered 100 saffron crocus bulbs from Fedco, the ordering deadline is August 15th so hurry up if you're in the market for some!
This time we're planting it in it's very own bed that'll be over-planted with direct seeded annuals during the summer. Saffron crocuses bloom in the fall and the whole show takes place September-November. The bulbs are set for delivery after Labor day so the bed will be empty until then and leaving soil open is never a good plan so we'll be filling in with a cover crop for now. The crocus won't mind and a frost killed annual is the perfect bedfellow. No digging means no viciously murdering disturbing the bulbs with a shovel.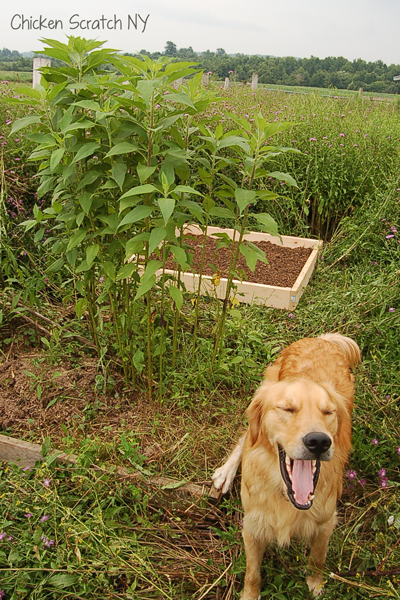 The box is 4×4 and will be placed next to the other 4×4 boxes we have set up for perennials in the vegetable garden. In the far corner of the garden I have a large L-shaped bed of asparagus, a 4×4 currently planted with leeks (it was strawberries but they didn't survive the neglect, next year it will be horseradish), another 4×4 with Jerusalem artichokes and finally the new bed.  You can see the JA behind Alfie and the new bed behind that one. This one will have 1/2 hardware cloth across the bottom, the others don't. It's basically a giant version of the
DIY Compost Sifter
so I won't rehash those instructions.
[Read more…]