I was very excited to put some of my 'real' Christmas ornaments on the tree this year. I have a giant tub full that haven't seen a tree since I moved away to college (6 years for those of you counting at home). While the 24 years of Precious Moments ornaments are still tucked safely away my somewhat sturdier trinkets are on display this year. Unfortunately that does mean I ran out of room for some of the ornaments I made last year.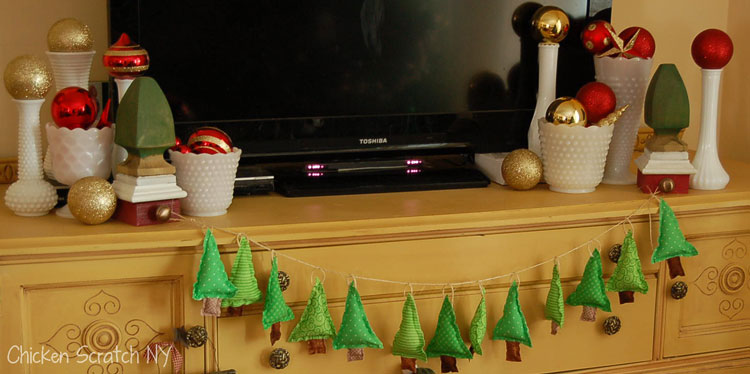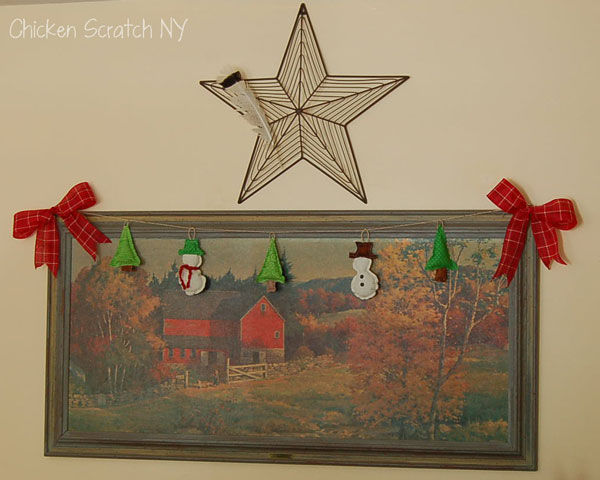 Hands down, my favorite DIY ornaments last year were my Stuffed Christmas Trees, I also made two stuffed snowmen but I don't think they ever made it on the blog. In order to display my little lovelies I had to think "outside the tree".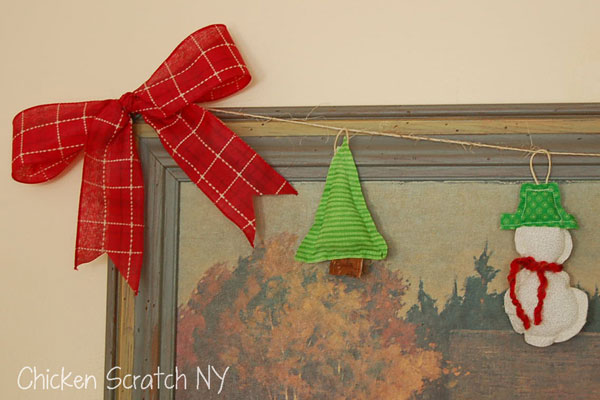 The first set was strung on a piece of twine over a giant picture/painting in the living room. I'm not saying you should hand ornaments over your expensive artwork! This guy set me back a whopping $2 (it was at one of those sales where nothing has a price and I'm a chicken and hate to ask but I loved the painting so I made my sister ask and it was really dramatic and long and drawn out like this sentence). Anyway. Twine, ornaments and a few large bows add a touch of cheer to an everyday object.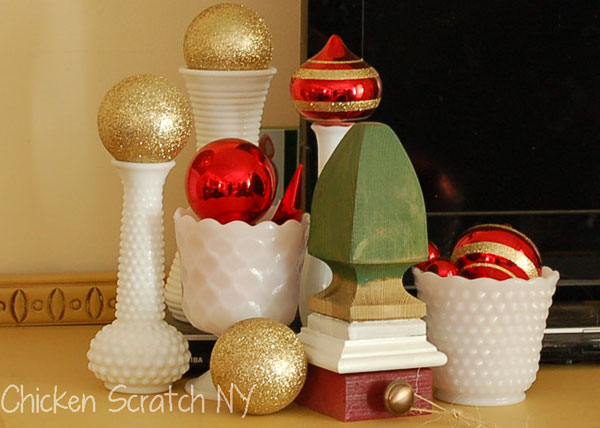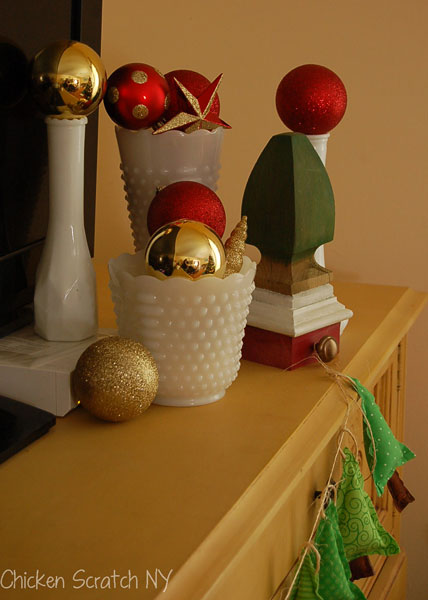 The rest were also strung on twine (I do not have a problem) and hooked to the wooden tree stocking holders I made last year, they are heavy enough to hold up a whole string of stuffed ornaments. I put all of our new stockings on the hutch this year so they were feeling lonely. The rescued buffet was looking a little sparse (even with the giant TV on it, am I the only one that thinks those things are hideous?) so I pulled out some the milk glass from the wedding and a pile of ornaments. The red and gold ornaments are all 'shatterproof' and came from Lowe's a few years ago. We used them exclusively for 3 years while I was in college and we shared our small apartment with Rita-beast as an ornery kitten.
Find more holiday projects on my Christmas page