Do you ever get stuck in a dinner rut? We do all the time, in face if we don't make a serious effort we end up eating spaghetti 4 out of 5 nights (yep, we are that bad). When the January theme of the Silhouette Challenge was revealed I knew what I wanted to do.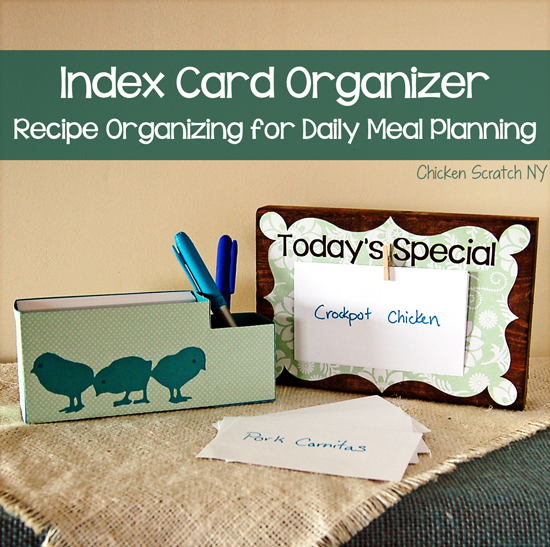 It all started with this index card box; but that was just too plain for me so I added this little chick border.
Supplies:
Heavy card stock
Coordinating scrapbook paper
Glue stick
Spray glue (optional, you can use the glue stick here if you work fast)
Index cards
Pens
Instructions: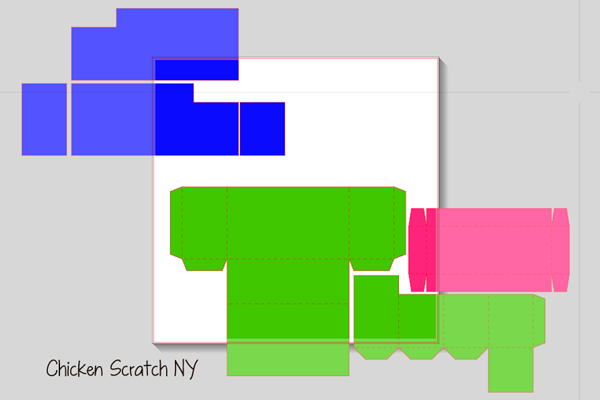 Open the index card box file. Ungroup all the pieces, we're going to cut them out of two different papers so we need to separate them. I decided not to put a top on my box so I deleted the pink shape. 
Rearrange the two green shapes to fit on one 12*12 piece of heavy card stock, I used a piece of dark teal textured card stock. Cut and remove from the mat and fold on all the scored lines. Using a glue stick or double sided tape put the two boxes together. Don't attach them just yet.
Pull up the blue shapes, they will get glued to the outside of the box (don't mind that they magically changed color from dark blue to light blue). Open up your new decorative element. I wanted to use these chickies but they were a little too big. I didn't want the seam where the two boxes were glue together to show so the birds got downsized.
  When you're happy with the placement cut these shapes from the patterned paper, don't forget to change your settings! Glue the small rectangles to the ends of the 2 boxes you made. You can do that afterwards but it's easier to do it first.
Glue to two boxes together. Use the spray glue to put the patterned paper on the front and back of the mega-box. Don't forget to glue in any little pieces from the cut out. I used the chick shape cut out as a stencil to add the eyes with marker.
Add the index cards and some pens and you're ready to start organizing your recipes. You can write the name on one side and the recipe on the other (or figure out how to print on index cards.
Looking for More Silhouette Projects?
My Silhouette Challenge buddies and I are all sharing projects on our blogs today, so peruse the projects below for a wealth of Silhouette inspiration!