I've been having problems with my hutch. I love having it for storage and decoration purposes but I was having some problems with her. When I ditched the super bright orange walls and painted them a deep orangy-red (Autumn Russet from Valspar) the dinning room took a turn from light and cheerful to dark and cozy. Luckily the southern facing sliding glass door lets in lots of light, but once I added the dark-finished hutch the whole thing went from country/primitive dinning room to deep, dark cave.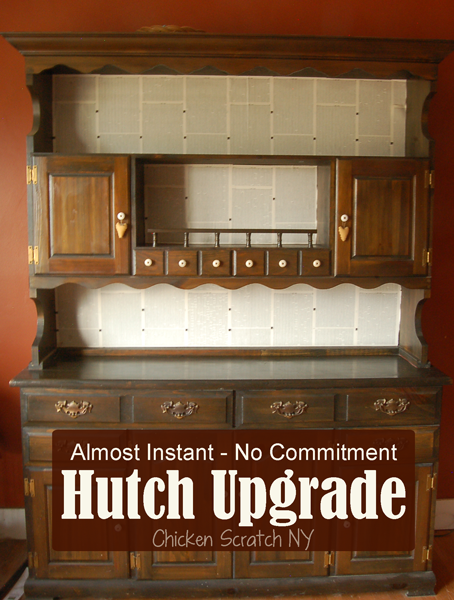 Inspiration struck when I was flipping through my Happy Hutches pinterest board.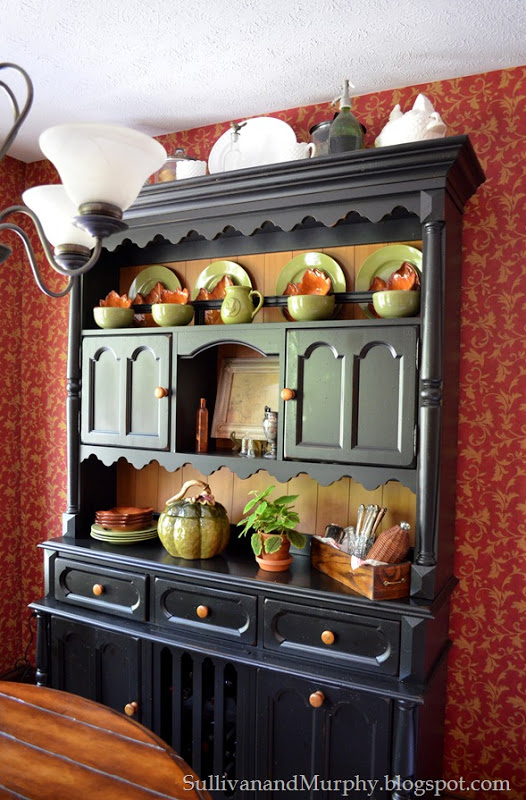 Isn't this hutch from Sullivan and Murphy absolutely gorgeous? What really stood out to me (aside from the amazing green dishes) was that the wall color is pretty close to mine and the hutch is even darker than mine BUT nothing disappears into the shelves thanks to the light-colored wood planking. See how dark the shelves are? Anything darker than milk glass gets lost.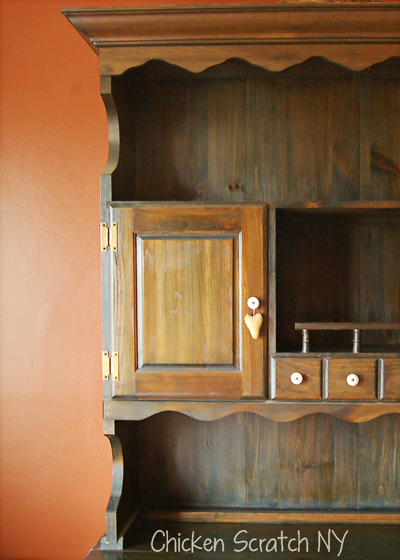 My first thought was to use a light colored beadboard. But that's at least a $20 investment, and since we don't have a truck anymore the logistics made this pregnant lady want to take a nap (to be honest it doesn't take much these days).  It's also less forgiving and I'm pretty sure I'd need some help cutting that board up.
My next plan ended up working like a charm. I headed over the the Dollar General and picked up 4 sheets of foam core board for $1 each. How much you need will depend entirely on what surface you need to hide cover.
Supplies:
Foam Core Board
Razor Blade
Spray Glue
Duck Tape
Book Pages
Twine
Button
Start by measuring your spaces, mine ended up being 3 different heights. Lay your boards out and carefully mark off your cut lines. I like to cut holding the razor blade (or exacto or box cutter) in one hand and the ruler in the other. As always, sharp blades are best and be very careful not to cut yourself.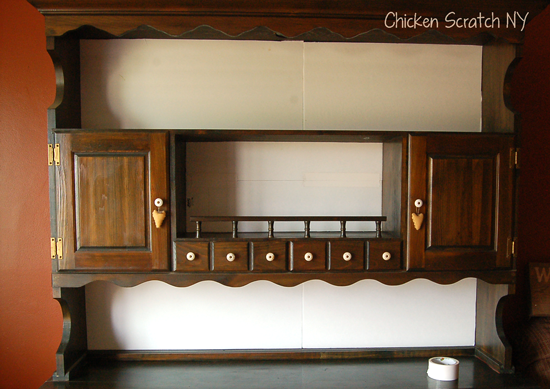 After your boards are cut test fit them to see if you need to shave off a little bit. If you need to connect 2 pieces tape them together on both sides with duck tape. I happened to have white leftover from my Jingle Bell Rock Wreath and it worked out well because the paper I used was pretty thin and I didn't want the tape to show through. If you're pieces fit it's time to get fancy.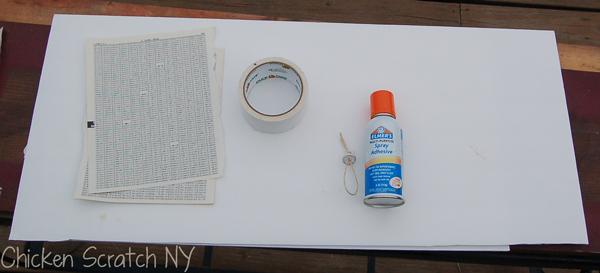 Go outside if you can, spray glue gets everywhere. Lightly coat the board and then start laying down your pages, you can go randomly or make a pattern. Remember to re-spay the board if you overlap pages. I ripped pages out of an old cross-word dictionary that I picked up for crafting purposes. I used Elmer's re-positionable spray glue, while it's still tacky you can lift of pieces and move them around but it dries permanent. **I first tried Mod Podge and it was a huge fail. I think the moisture caused the paper coating to pull away from the foam and the board got wiggly and the paper looked awful.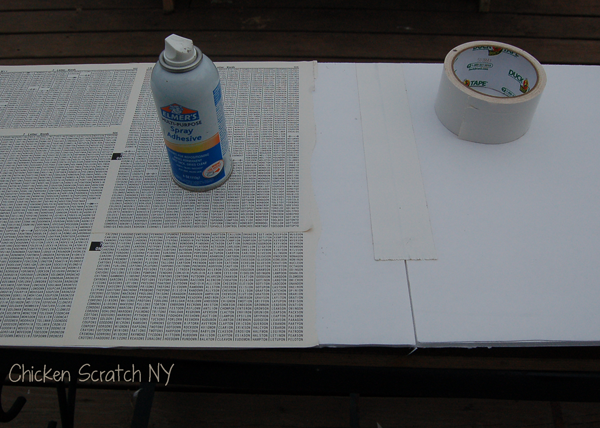 The next step is optional but I 150% recommend it. Since your goal is to get the pieces fit snugly it can be pretty hard to remove the boards without damaging them ($1 foam core isn't the strongest creature). Tie a loop of twine through a button (unless you are a master knot maker it won't work, find a button!), poke a hole though the foam core in the bottom corner of the board. Pull the twine loop through so the button is on the back. Now you have something to pull on to remove the boards.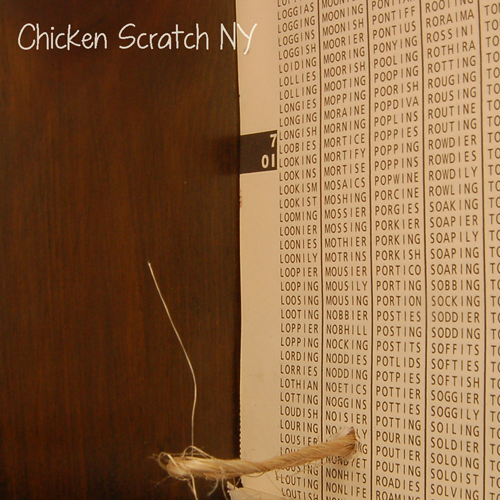 When you're all done ease the boards into position, step back and cackle maniacally fall in love with your hutch all over again.