The inspiration for these Halloween sugar cookies came straight from The Nightmare Before Christmas. I love the creepy, sweet and magical world Tim Burton created in the movie.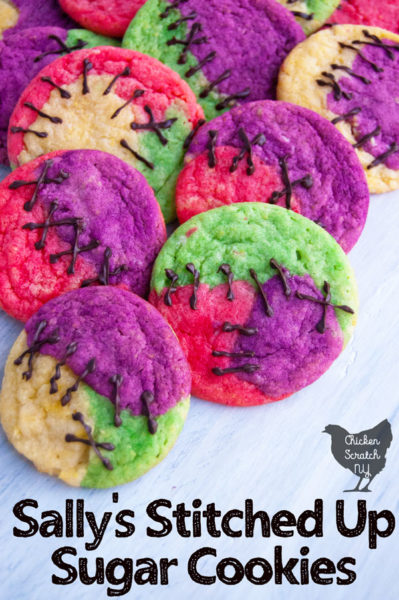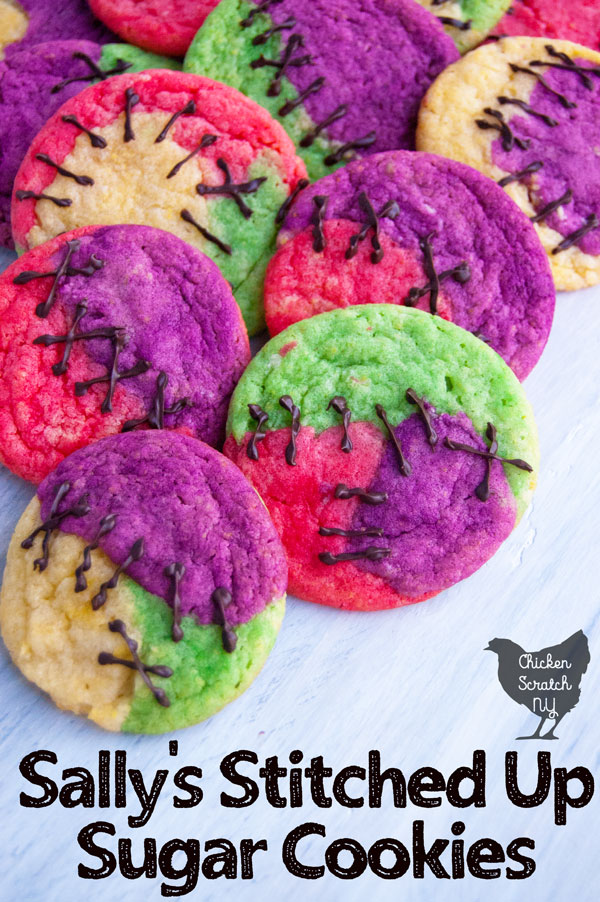 I thought there was no better way to honor it than to create my own creepy and sweet treat. You can't get any easier than starting with a pouch of cookie mix either so this is something anyone can pull off.
You'll certainly be the talk of the school Halloween party when you show up with a tray of these babies! You can make them as simple or complicated as you like and decorating the whole batch will only take minutes.
We all know how crazy fall is so make it easy on yourself and grab a bag of Sugar Cookie Mix. If that's not your style you can obviously make the rest of us look bad and make it from scratch 😉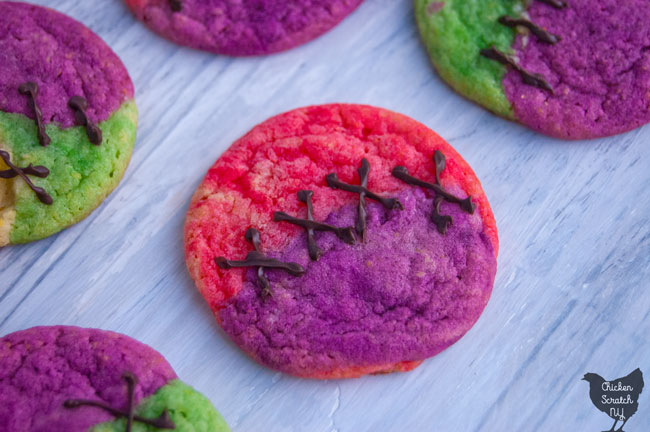 After you get your dough mixed up according to the package instructions divide it into several bowls. I let my kids pick out the colors so we ended up with pink, purple and green plus the plain colored dough. Mine is yellower because my chickens lay eggs with almost orange yolks. The purple and pink are from the McCormick neon food coloring set and the green is from the regular food coloring set.
Use a fork to get the food coloring mixed in. My 4 and 2 year old did the drops so I can't even guess how many were used. Do whatever makes you happy.
Then pop the cookie dough into fridge to harden up. It'll be too messy to roll right away, give it at least an hour but overnight (or nights…) is fine.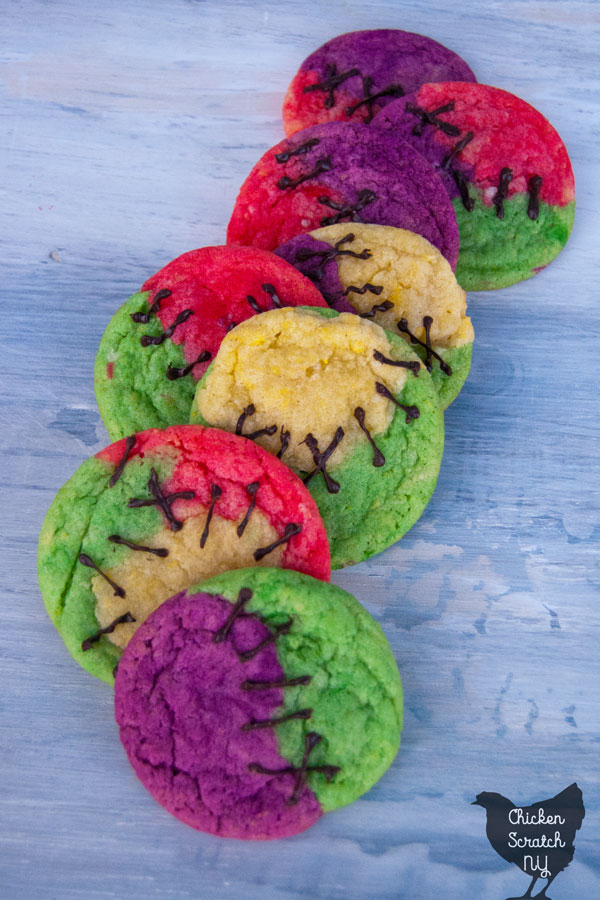 The dough will start to loosen up when you handle it as the butter melts so even if it's completely solid from the fridge you can get workable cookies. Preheat the oven and grab a spoon.
Scoop out a small ball of two or three colors and roll them together. Place the balls on the cookie sheet with your favorite part of the pattern facing up.
Bake for 8-10 minutes until the edges start to look ever so golden. It's hard to see on the colored dough but you'll notice it if you leave one section uncolored.
The cookies will still be very soft so let them sit on the cookie sheet for a minute or two before you transfer them to a cooling rack. Make sure you let the cookie sheet cool down between batches.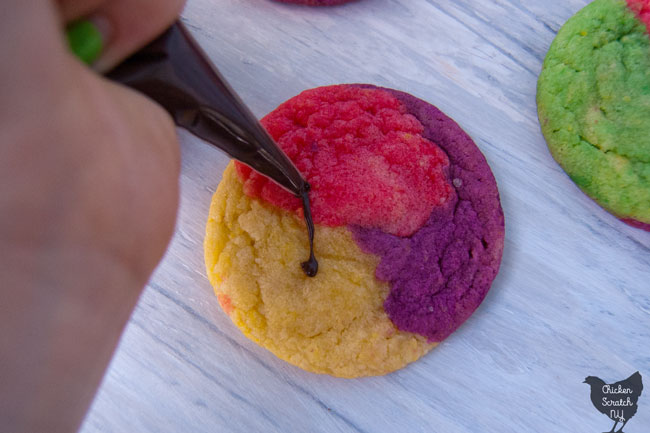 When all the cookies are baked and cool it's time to decorate! All you need is a piping bag (a ziplock will work in a pinch) and candy melts. If you're new to the world of candy melts you can find them at Joann's or Michael's and they're always  on sale.
Melt a small handful of chocolate melts in the piping bag following the instructions on the package. Snip off a tiny tip and pipe lines and X's connecting the different colored sections of cookies, just like on Sally's dress.
Don't forget to PIN this to your Halloween board!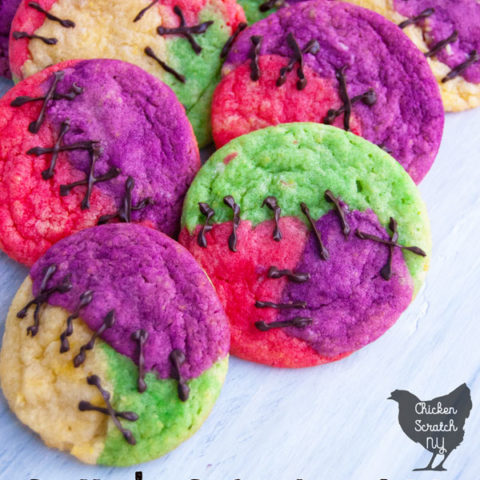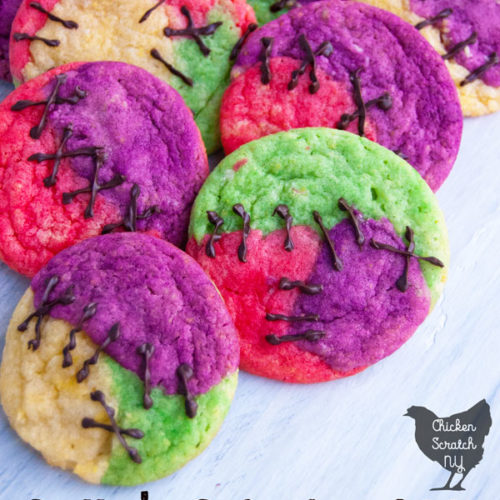 Sally's Stitched Up Sugar Cookies
Yield: 24 cookies

Prep Time: 15 minutes

Chill: 1 hour

Total Time: 1 hour 15 minutes

Whip up a batch of easy Halloween sugar cookies with a Tim Burton twist thanks to food coloring and chocolate stitches inspired by Sally's dress from The Nightmare Before Christmas
Ingredients
1 pkg Sugar Cookie Mix + Ingredients to Prepare
Food Coloring (2-4 different colors)
Chocolate Candy Melts
Instructions
Prepare cookie dough as instructed for drop cookies
Divide dough into 4 bowls and add food coloring, mixing well with a fork
Chill dough for 30 minutes or more
Preheat oven to 375 degrees (or whatever your cookie mix recommends)
Make golf ball sized dough balls using 2-3 colors of dough for each cookie
Bake 8-10 minutes or until slightly golden around the edges
Remove from the oven and allow to cool on the cookie sheet for 2 minutes
Cool cookies on a baking rack
Melt a small handful of candy melts in a piping bag according to instructions
Snip the tip off the piping bag and use it to add stitches to the cookies, connecting the different dough colors
Recommended Products
As an Amazon Associate and member of other affiliate programs, I earn from qualifying purchases.

Check out my Halloween Page for more ideas or start here: