I've had this bench for years, my grandfather made it for me for my… 16th? birthday? It sat on my moms lawn for many years until it was delivered to our house my by uncle and my very happy mother. I intended to give it a new coat of white paint and power wash the plastic lattice last year but it never happened and the bench sat lonely (and ugly) beside the driveway. Well last weekend while we were waiting for the man to pick up the cows (they have literally gone to a farm upstate, we found a new home for them because they were a lot to handle with the new baby) my brother-in-law got antsy and decided they should move RIGHT THEN! So my husband, nephew and two brothers-in-law carried it down the slippery lawn to it's final resting place.
I've got a lot planned for my bench but I had to start somewhere and this idea randomly popped into my head and I uncharacteristically decided to follow through with it before I thought too much about it.
First I scrubbed the back of the bench to remove lots of dirt and grime (probably quite a bit of insect and bird poop too, let's be honest). You can see that the lattice is still disgusting but I was working during nap time while my husband got ready for work so I didn't have time to drag the hose out. I considered repainting the whole thing but I loved the chippy finish and I spend so much time sanding to achieve that look that I just left it. I might seal the legs though, or at least set it on gravel so the water drains away.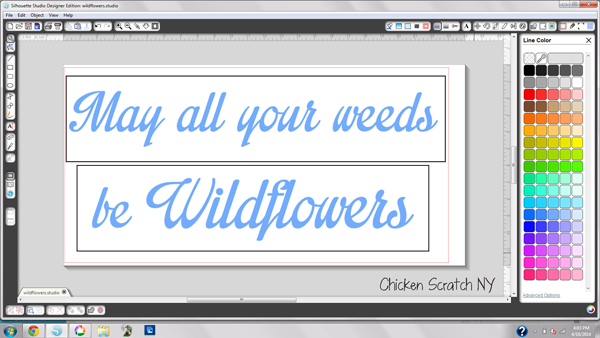 I set up the phrase "May all your weeds be Wildflowers" in the font Impregnable and cut a stencil in vinyl using my Silhouette Cameo. I like to cut boxes around the pieces to make it easy to weed and use as a two piece stencil. I did make one mistake, if I did it again I would shift things around to the bottom line of the stencil could like up with the text in a straight line.

Like my assistant? I did all stencil application and painting with my daughter strapped to my chest in her Moby and Cookie Monster was along for the ride until she decided the wrap tasted better than his eyes. I used  contact paper to transfer it to the bench. I learned from my mistake with the Kitchen Love Subway Art and I de-stickied it first by pressing it against my jeans to pick up a little lint.

You might notice that the work 'be' is pretty hacked up, when I added the stencil I forgot that I had made Wildflowers larger and that the whole thing wouldn't line up right so I had to peel it off with really un-sticky transfer tape and move it up.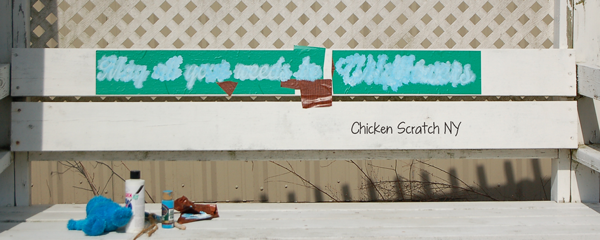 I wasn't sure where to go with the paint, I considered using one of the colors from the Barn Quilt because it's not that far away but I wanted the message to be subtle, something you didn't notice until you were sitting down. I'm all about garden secrets (like the secret plan to connect the bench garden to the barn garden, oops!). I used a flat, round stencil brush and a dabbing/stabbing motion to apply the paint and there was no leakage. Pretty impressive considering the uneven nature of the board.
In this picture you can also notice: Cookie Monster has given up, I used white and "Calypso Blue" from DecoArt that I've had forever. I mixed it up on the fly with my brush using the contact paper as a mixing surface. It was stupidly windy so having my paint stuck to the bench was really helpful.

I intentionally left some white streaks to make it look aged. It's not going to stay perfect forever so why start out that way? Then you have too much pressure to keep it that way. By the way, Mary and Cookie Monster were not my only assistants: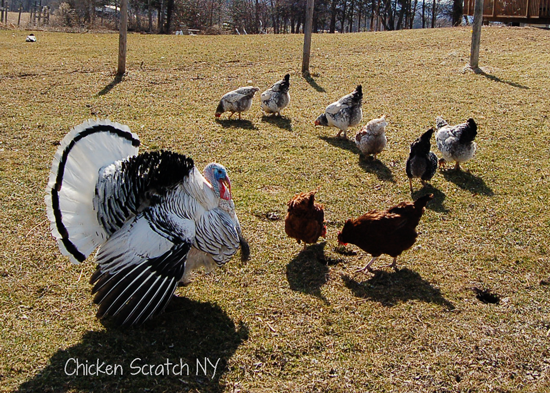 Gobbles considers himself the warden of the backyard. There were also about a dozen ducks off to the side. While I'm relieved that the cows have moved on I do miss their nosiness, they used to watch (and critique) my every move.
I've got a lot more plant for this (giant) little guy. Including but not limited to:
Moving it into it's final location after I flatten and de-grass it
'Fence' it in with railroad ties
Plant a clematis on the side to grow up and over it
Add solar powered string lights
Add a cushion/pillows
Want to Check Out More Silhouette Projects?
My Silhouette Challenge buddies and I are all sharing projects on our blogs today, so peruse the projects below for a wealth of Silhouette inspiration!
1. Dream a Little Bigger // 2. So Much Better With Age // 3. Adventures in All Things Food // 4. Creative Carnival // 5. The Kim Six Fix // 6. feto soap // 7. One Dog Woof // 8. The Experimental Home // 9. From Wine to Whine // 10. Architecture of a Mom // 11. Grey Luster Girl // 12. Minted Strawberry // 13. Designed Decor // 14. Tried & True // 15. Silhouette School // 16. Bringing Creativity 2 Life // 17. Weekend Craft // 18. Practically Functional // 19. Please Excuse My Craftermath… // 20. McCall Manor // 21. unOriginal Mom // 22. Creative Ramblings // 23. A Tossed Salad Life // 24. A Glimpse Into Barb's Life // 25. Kate's Paper Creations // 26. Simply Kelly Designs // 27. Cutesy Crafts // 28. Persia Lou // 29. Whats Next Ma // 30. Two Purple Couches // 31. The Frill of Life // 32. Nearly Handmade // 33. Get Silvered // 34. Ginger Snap Crafts // 35. Life After Laundry // 36. The Sensory Emporium // 37. Monograms & Cake // 38. The Thinking Closet // 39. My Paper Craze // 40. Chicken Scratch NY