Do you rip down all your winter/Christmas/holiday decorations as soon as possible? I'll admit that this year I did, I barely got 1/2 of my decorations up at all and the clutter from the tubs plus all the laundry (babies are so tiny but require SO MUCH laundry!) was driving me nuts. After it was all down (and in the basement) I realized how sad it made me and I had my husband bring one tub back up, so I could set up my DIY Winter Village.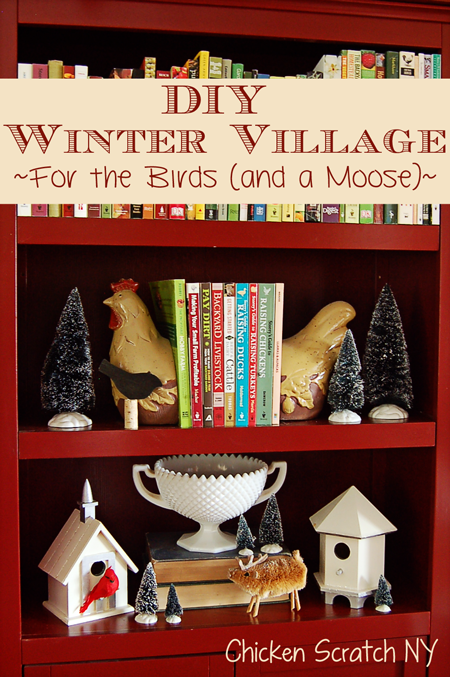 I love the (super expensive) ceramic winter villages that light up with a million houses but until I win the lottery it's just not in the cards for me. So in true DIY fashion, I made my own. I usually keep it with the Christmas stuff but the bookshelves looked a little lonely and I wanted something on them that reflected the season.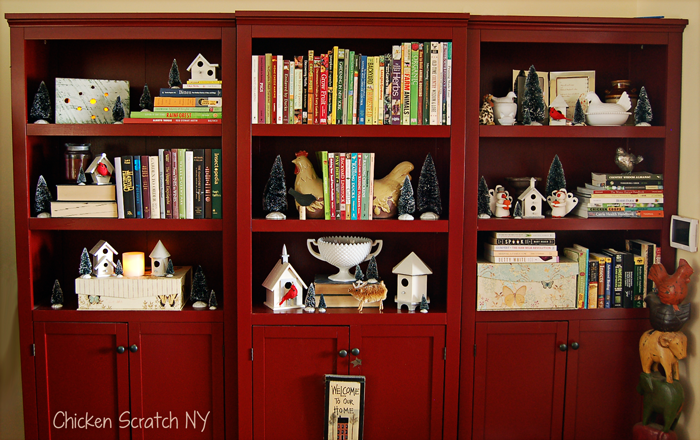 The houses are all from the wood aisle of either Joann's or Michael's. They come in bare wood and lots of different styles. The trees are from Michael's, I buy the 21 pack of bottle brush trees by Lemax. The cardinals are from the floral aisle of Joann's.The moose was an ornament until I clipped off the hanging loop; he was also from Michael's.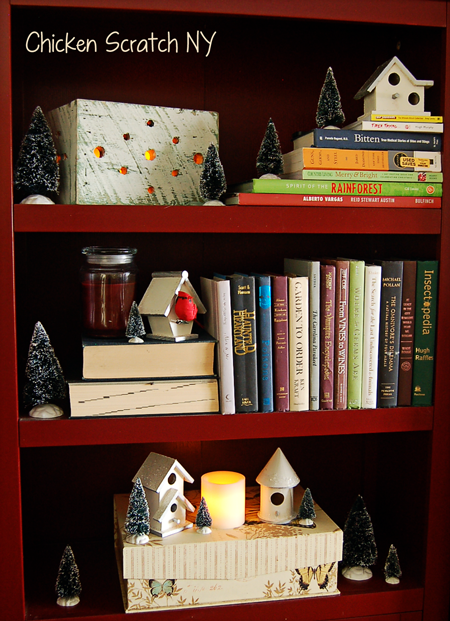 I painted the birdhouses are white with silver accents. I brushed on white glue and dusted the houses with chunky iridescent glitter. To set up the scene I took down all the non-essential decorations (I consider my Turkey Cake Toppers essential) leaving the books, boxes and my candle box. I places the houses first, starting with the larger two and filling in space with the smaller ones. Then I added the cardinals, I wanted one in each column and one in each row, it that makes sense, to keep your eye moving.
This would obviously work for Christmas but I think it fills in the New Years to Valentines gap or even for the whole winter season (I'm not much for pink hearts haha).