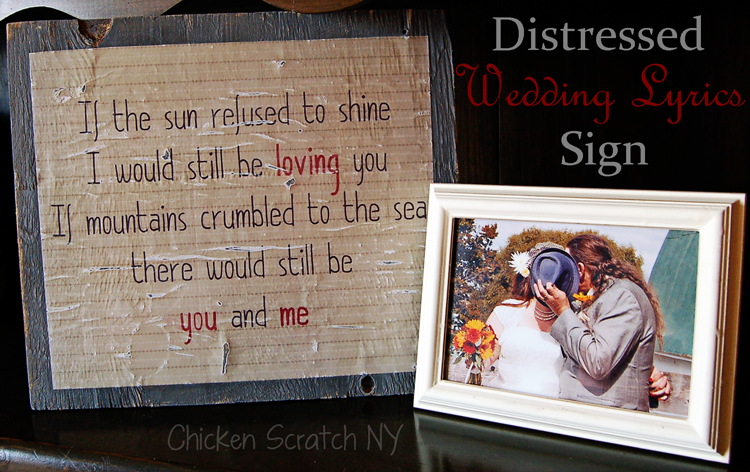 This project is semi-valentines, semi-wedding, mostly love. I walked down the aisle in our (ahem) non-traditional wedding to the song Thank You by Led Zeppelin (we had an incredibly talented friend with a guitar, not Led Zeppelin singing). I love song lyrics and I've wanted to do a project incorporating those lyrics or our first dance (God Gave Me You by Blake Shelton) song since the wedding.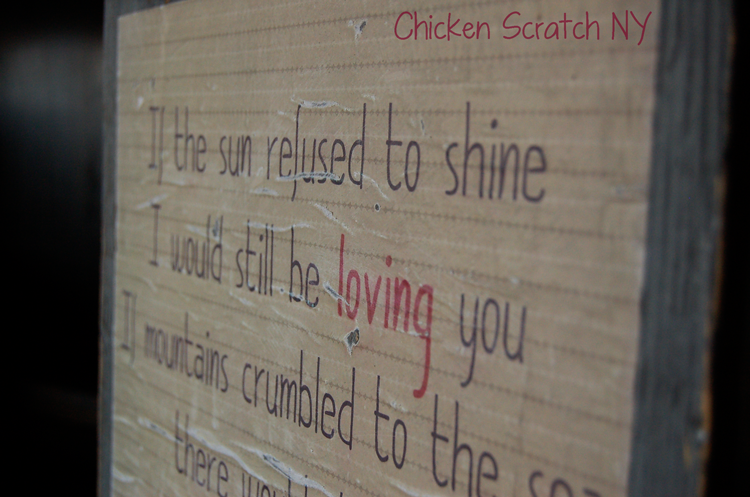 Just in time for Valentine's Day I whipped up some scrap art. I dug out a piece of scrap plywood from the basement (strangely enough our house came with a few piles of scrap wood and lot's of birdhouses) and sanded off the major splinters. I painted the sides and the front of the board with a house-mixed gray. I use a really scientific methos called pouring black and white paint on the board and stirring.
*On my first attempt I only painted the edges, then when I added the paper it was terrible, the raw plywood sucked up the modpodge and the paper didn't stick at all. HUGE bubbles and 1/2 of the paper didn't stick.
After the paint dries get your paper, mod podge and brush. My board is about 12×14, being scrap lumber it isn't perfectly square. I printed the lyrics out on a 12×12 sheet of scrapbook paper and trimmed about 3/4 inch of the top and bottom. I set it up in Photoshop Elements using the font DK Pimpernel. After a very liberal application of mod podge and lots of rubbing, the paper is attached to the board. Once it's dry get out your sanding block or sandpaper and distress that baby. It works out well if you don't get your paper on perfectly flat or if your plywood has any bumpies on it.
This would be a perfect wedding gift (if you happen to know their song ahead of time) or use the words of a favorite tune to decorate a teen's bedroom or dorm