A week or so ago I shared the birdhouse that I dyed along with hints of a mystery project (ooooooooo!), well it's a mystery no more. I was dying a muslin Americana banner to hang in my living room.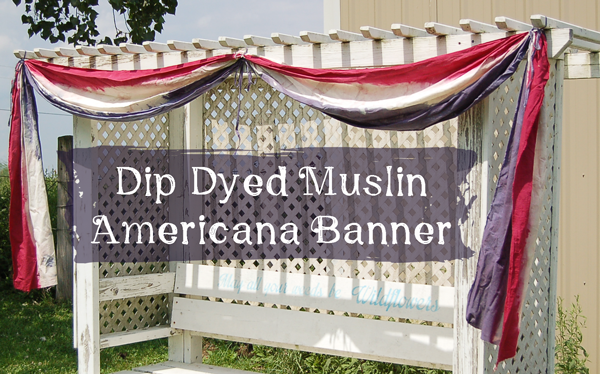 I know the fourth of July is basically tomorrow, but this is a great project for all summer long (how else do you decorate in the summer if not overtly patriotic? My husband would lock me up if I started digging out the pumpkins now)
Americana Banner Supplies:
?? Unbleached Muslin
?? Hot water
?? Plastic Bucket
?? Salt
?? Optional: Brown fabric dye, hot water & spray bottle
Instructions:
1. Tear your fabric to size, I bought 44 inch muslin and ripped in down the center to make two 22 inch pieces
2. Set up your first dye color  in the bucket, I used Denim Blue and Wine liquid RIT dye. Stir 1 cup of salt and hot water together, I used water hot as I could get it from the tap and a medium sauce pan full of water I brought to a simmer on the stove. Stir  in the dye (I used ~3/4 of a bottle). I wanted to dye ~7 inches blue so I tried to get about 6.5 inches of dye water.
3. Accordion fold your fabric, lower it into the water. Using gloved hands gently separate the layers in the water. If they stick together they won't absorb the dye. DON'T try pre-wetting the fabric!
I did and the dye migrated to far up I ended up with half white, 1/4 pink and 1/4 wine. Carefully flop the undyed fabric over the side of the bucket, let it sit. I actually left in the in the bucket over night but you don't have to do that.
4. Rinse carefully, pulling the fabric apart to get all the layers.
5. Repeat with the other color.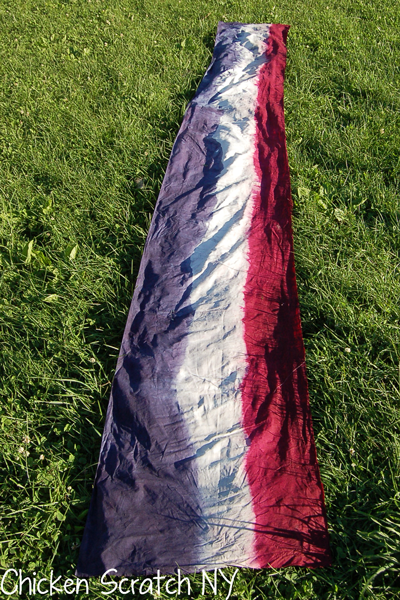 6. Now take it outside, lay it out flat. Consider how long it is and think maybe it's time you start measuring for real.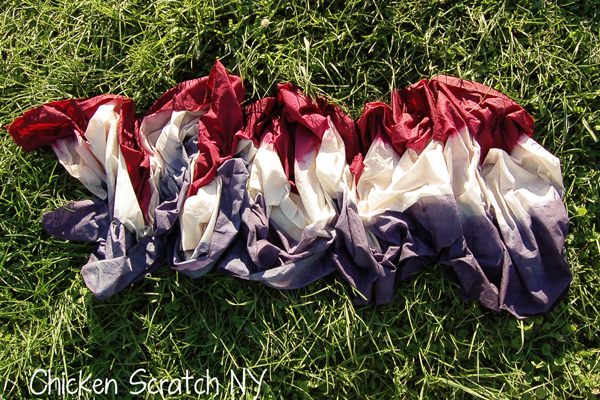 7. Optional: Starting in one spot grab hand fulls of the fabric and gently scrunch it until it's much smaller and a really wrinkled.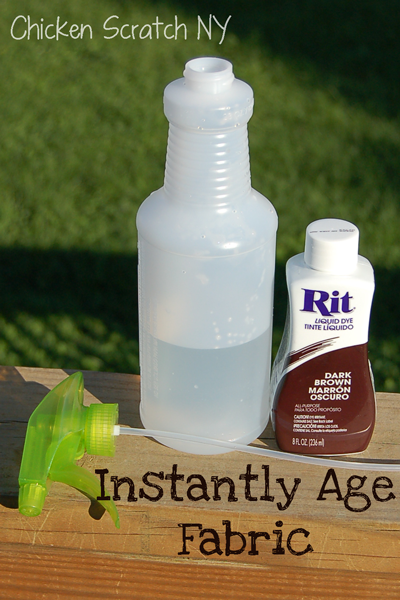 8. Whip out your spray bottle filled with a smidge of brown dye and hot water and spritz the whole thing lightly. Pull it apart a little to check how 'aged' you're making it. When your done stretch it out again and let it dry.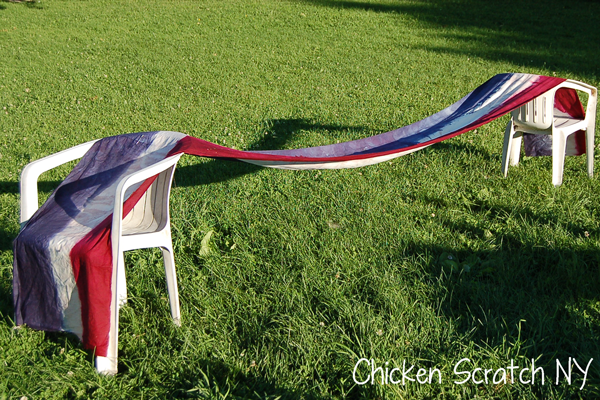 Technically you just have giant piece of fabric, but in reality it's a banner (or a giant piece of fabric with a purpose).
I'm hanging it over my book cases so I found the middle, roughly gathered it with one hand and tied a piece of selvedge I ripped off the fabric around it and make a bow, did the same thing a few feet away and hung it on my magic hooks that keep up all my decorations.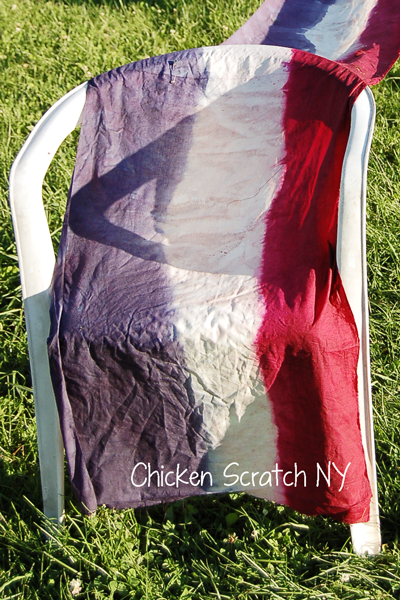 If you look through the shadows you can see the tanish brown 'age' spots, I started with unbleached fabric so the effect isn't as stark. It would look much more obviously fake if you started with bright white.