It seems that my country style is taking a primitive slant this summer. My fingers were itching for something fast and fun to add to the patriotic spirit in my home. I spent about 4 hours in the garden so I knew it had to be easy and my craft room is over flowing so it had to be a stash buster.
This is what I came up with:


You need: A small embroidery hoop
A scrap of burlap bigger than the hoop
A scrap of tightly woven fabric for behind the hoop
A scrap of blue print fabric for the star
Thick red string (I used crochet cotton)
A sharp needle with a large eye
Start by placing the out side hoop on the table, make sure it's loose
Layer on the burlap and woven fabric. Sandwich tightly with the inner hoop.
Cut a star from the blue print. I highly recomend drawing out a quick 5 point star on paper and making a pattern. My first star looked like a wide, fat man with a really long inseam.
Pin the star onto the burlap closer to the top than center.
Stitch around the edge with a wide straight stitch.
Free-hand (stitch?) "1776" below the star.
Trim and fray the burlap until you're happy with it
Hang it up with next your Firecracker centerpiece and you are on your way to celebrating like its 1776!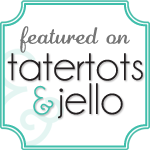 Linked up at Funky Junk Interiors
Summer blog challenge:
Day 18:  I love this recipe for Cabbage Strudel  – if you follow this recipe you will end up with an excess of filling. But it's still really good!
Day 19: Something I'm proud of? How about the progress I've been making in the garden (finally!)?
I'll get some pictures up tomorrow but I'll just say I planted squash, beets, carrots, cucumbers, beans, dill and melons. I also finished transplanting the tomatoes and excavated weeded around the kiwi, current and gooseberry bushes.