It's time for another post from the Silhouette Challenge and I couldn't let October go without doing a Halloween Project! I wanted to set up a big graveyard scene on the top shelf of the hutch featuring pumpkins, tombstones, ghosts and trees.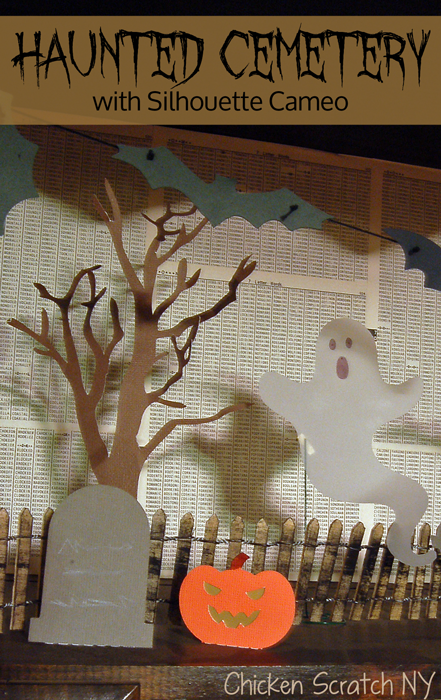 I started the whole thing off with a piece of picket fence I found in the random wood section of Michael's.  It's raw wood with white wire and I wanted it to look older and dirtier so I gave it a quick once over with a mostly dry brush and black paint. I bent the fence back and forth a few times to make it stand up on it's own.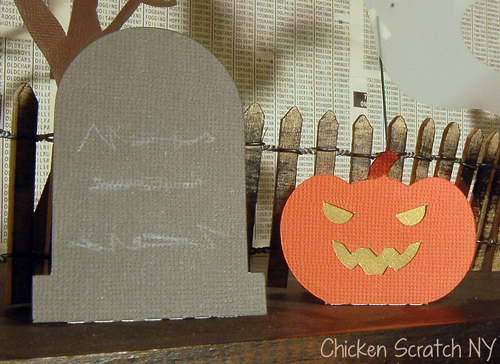 The pumpkins were cut from orange card stock and I glued yellow vellum to the back over the holes to make them look like they were lit. I used a brown marker to darken the stems. I added boxes to the bottoms of the pumpkins (and the gravestones), welded the shapes together and added a score line so I could make everything stand up.
The grave stones were all cut from dark grey card stock, I left the cross shaped ones plain and scribbles lines on the regular ones in white colored pencil to make them look engraved.

I cut a few ghosts out of white vellum and drew on faces in black sharpie. I used floral wire to make little stands for each ghost. I'd have loved to hot glue the ghost to the stand but once again, I lost the glue gun and held them together with a tiny piece of white duck tape.
I had originally planned on using a 3D tree but I think I need a new blade because I destroyed 4 sheets of paper trying to cut them out. Instead I used a different shape and made my own little stand to glue on the back to make them stand up. Even though I used a heavy paper I still had to tape wire to the back of the trees to make them stand up. I bent the branches around to make the trees a little more creepy.
This post is part of the Silhouette Challenge. If you have a Silhouette and you'd like to join check out the sign up here. You DO NOT need to have a blog to join up! It's an amazing resource for all Silhouette owners.

My last Silhouette Challenge project was my Paper Pumpkin Banner. I can't wait for November, I've got a baby shower project to share!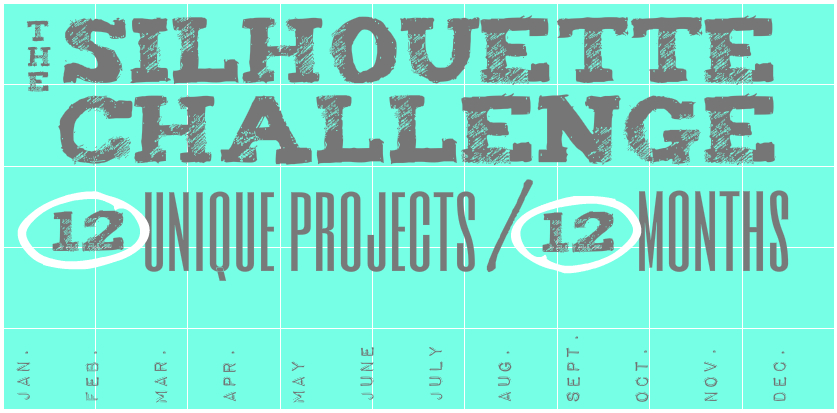 Do yourself a favor and check out the other fantastic blogs participating:
Crafting with Glitter Just Got Easier by Create & Babble
Birthday Invitations Homer Simpson Style by Black & White Obsession
DIY Planner Dividers by The House on Hillbrook
Pumpkins and Peacocks Fall Mantel by joy & gladness of heart
DIY Cheers Garland by Rain on a Tin Roof
Wedding Gift Wrapping by It Happens in a Blink
Glitter Monogrammed Pumpkin by unOriginal Mom
Halloween Family Rules by Tried & True
Faux Stitched Speech Bubbles by Get Silvered Craft
A Mario Bros. Backsplash by Please Excuse My Craftermath…
Halloween Spooky Eye Luminaries by A Tossed Salad Life
Addressing Invitations with a Silhouette Cameo by My Favorite Finds
Halloween Party Treat Bags by The Thinking Closet
"Create" Wooden Pallet by Lil' Mrs. Tori
Spooky Halloween Bats Garland by TitiCrafty
Decorated Pumpkins by Tanya's Creative Space
Cute Wedding Card by Zanaree
Learn to Tie Your Shoes by From Wine to Whine
Fussy Cutting Making You Fussy? by My Paper Craze
Cut Fabric With Your Silhouette by Cutesy Crafts
Cookie Lee Jewelry' Gift Bags with a Purpose: Sharing Thankfulness by An Elegant Touch
Halloween Banner by Sowdering About