My latest Blogging for Books find is Marco Canora's new one, "Brodo: A Bone Broth Cookbook". I picked this one for a few reasons, one I have access to a lot of bones and two, my day job. I work for a sewing company that specializes in custom chef wear and we make jackets for Marco Canora (he doesn't know about this blog but I believe my boss talked to him about having a copy of this book in the office while we were working on an order for him which I thought was fun).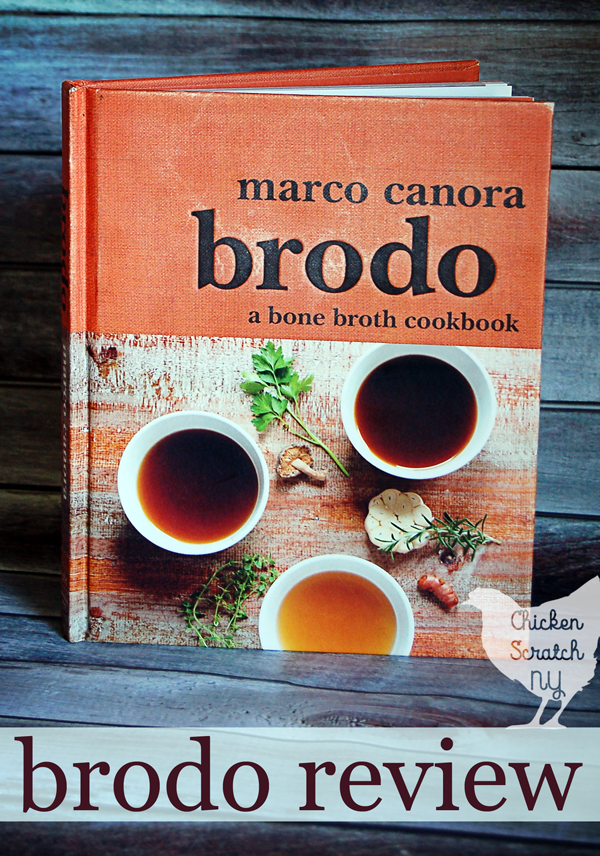 I've actually had this one for a while but things with the baby got crazy and then summer didn't seem like the best time to be simmering giant pots of meat and bones. I haven't even done any canning this year. Now that it's fall it seems more appropriate, especially with back to school colds every where.
The first half of the book goes into details on the health benefits of broth, where to source ingredients and how to get the most out of them. It's a slightly more involved process than you might think at first but it's not impossible. What surprised me was the amount of bones needed. I recommend making friends with a farmer or the local butcher if you plan on making lots of broth.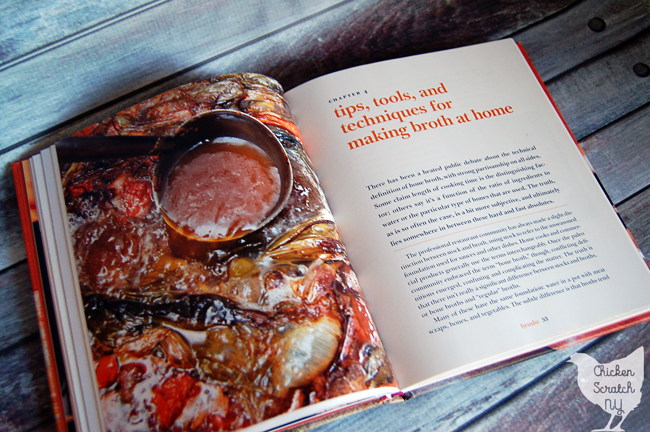 The first set of recipes is sipping broths. There are 15 different versions including 3 vegetable broths. The recipes are: Golden Chicken Broth, Grass-Fed Beef Broth, Hearth Broth, Roasted Chicken Broth, Duck Broth, Veal Broth, Roasted Lamb Broth, Smoky Pork Broth, End-of-the-month Broth, Fish Broth, Lobster Broth, Clam Broth, and the three vegetable options, Mushroom Broth, Vegetable Broth and Seaweed Broth. The recipes make between 5 and 9 quarts. Each one includes detailed instructions on how to make and store the broth.
The next set of recipes is for 'add-ins' which can be added to the various broths to mix it up or provide additional health benefits. There are 10 add in recipes The add-in are mostly infused oils or purees. The most tempting to we are the bone marrow (it sounds strange as hell but bone marrow is delicious) and roasted garlic. I think both flavors would mix well into roasted chicken or grass-fed beef broth, the two I'm most likely to make.
Following is a chapter on Brodo Bowls that has 8 recipes. The bowls are meant to be a heartier meal than just a cup of broth. They are built on a base of home made broth with the addition of grains, meat and/or vegetables. The final chapter is on Risottos and includes 6 recipes.
There is a lot of information in this book and I'm looking forward to cooking with it all fall and winter. I've been trying to eat healthy and 'clean' and I can definitely tell when I eat something with preservatives or artificial ingredients that don't agree with me. Having a few jars of this on hand after the holidays seems like an especially good idea.