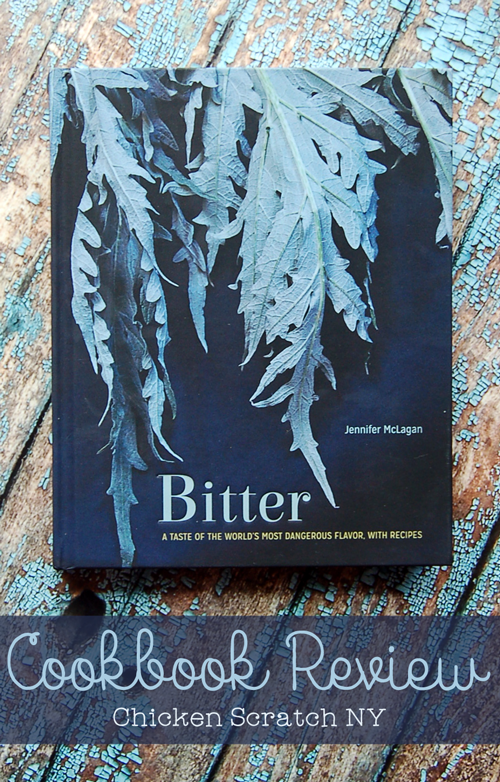 Maybe it's the post-holiday sugar crash but I've been craving something different. I found that in this cookbook. Bitter: A Taste of the World's Most Dangerous Flavor is a gorgeously photographed recipe and storybook focusing on, perhaps, the most maligned flavor. As a fan of dark chocolate I was intrigued to see what this book had to offer.

When I received the book I was immediately in love with the cover. It's a smokey blue-black with an unidentifiable plant (turns out it's a cardoon) and the title lightly engraved in a dusty blue. It was an interesting to choice to put a raw ingredient on the cover versus a finished dish. I prefer recipes that highlight the natural flavors  of an ingredient instead of turning into something it's not though culinary magic. Unless that magic is bacon, I like bacon. So I took the cover as a promise of good things to come.
The book is divided into 6 chapters, each featuring a different type of ingredients. The featured ingredients range from things you likely have in your kitchen right now (like beer) to things you've probably never heard of (puntarella or methi anyone?).  Like the ingredients the techniques also range from simple to complex. I was actually surprised to see some of the ingredients included in the book. I love Brussels sprouts and turnips and I don't really think of them as being bitter. Other ingredients are firmly planted in the bitter camp, like coffee and dandelion greens.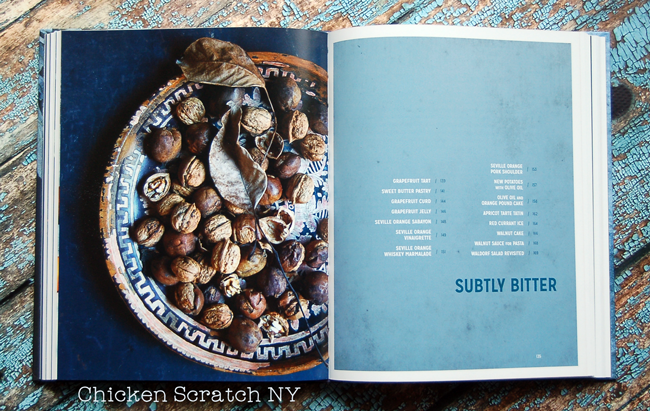 I really like the format of the book. Each ingredient is accompanied by a brief introduction in the form of a story. Sometimes it's a anecdote from the authors life and sometimes it's in the form of a recollection of a memorable dish.  The recipes are presented with beautiful, dark and moody photographs beside simply written recipes with concise instructions. Very little about the book strikes me as unintentional. There is a cohesive theme running through the book from the cover to the last page. I haven't had a chance to cook from it yet but I have quite a few recipes marked for the arrival of garden fresh produce.
The only thing less-than-positive thing I have to say is that I find the tagline to be overly dramatic and heavy handed. Bitter isn't poison, it won't kill you or burn down your house so I'm not quite sure what makes it so dangerous. In this case I'm willing to let it go because the rest of the book more than makes up for it.