I went to a college with a large collection of natural specimens. My comparative anatomy lab even had a mounted lion from a local zoo! The lion wasn't creepy but the old jars filled with mystery fluid and the drawers of stuffed birds and pinned insects had a touch of full body shudder. I was going for that slightly creepy vibe with this project.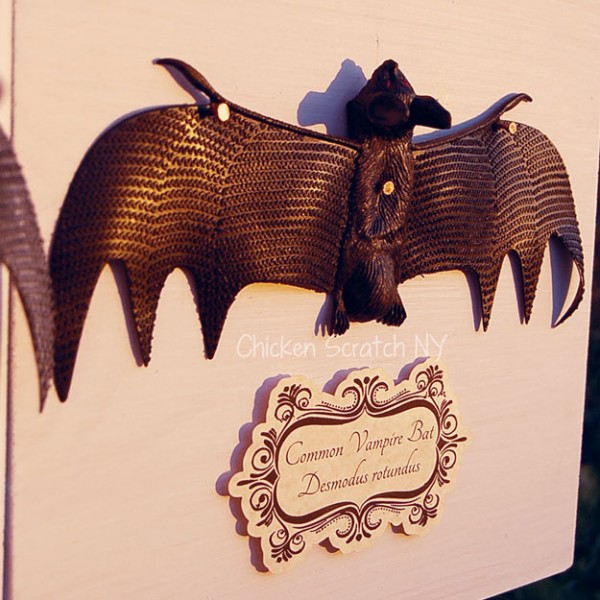 Supplies:
2 large bats (mine are from the Dollar Tree)
2 12*12 pieces of wood held together with 2 small hinges (for instructions read my Nativity Background post)
Small decorative nails
Hammer
Black & white paint
Sand paper
Printer + free file
Paper
Silhouette
Foam squares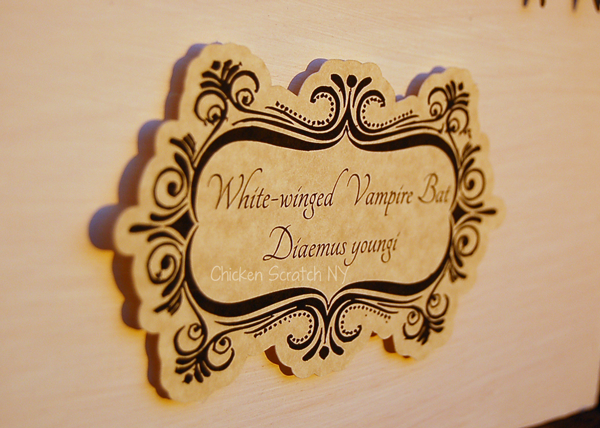 Instructions:
Chances are your bat is really fake looking, dry brush or spray some matte black paint on it to dull the rubbery shine and repaint the eyes if they are particularity bad
Paint the wooden squares white
Place the bats on the wood, one per side and attach them using the small nails through the wings. These bats had a hole in the chest from a hanging loop so I stuck one more nail there. These are copper-colored and I found them at Lowe's in the Hardware section. They were left over from my Recycled Wood Witch Hat Wreath
Print the signs on  paper and cut around the border using the silhouette print & cut feature
Attach the signs to the wooden block using two foam squares
Want to Check Out More Silhouette Projects?
My Silhouette Challenge buddies and I are all sharing projects on our blogs today, so peruse the projects below for a wealth of Silhouette inspiration!
1. Create & Babble // 2. Lil Mrs. Tori // 3. unOriginal Mom // 4. Zanaree // 5. The Kim Six Fix // 6. One Dog Woof // 7. Cupcakes & Crowbars // 8. Living My Given Life // 9. Architecture of a Mom // 10. Put A Bird On It // 11. Just Add Paper // 12. Weekend Craft // 13. Silhouette School // 14. Minted Strawberry // 15. My Paper Craze // 16. McCall Manor // 17. Chicken Scratch NY // 18. Mama Sonshine // 19. Creative Ramblings // 20. From Wine to Whine // 21. Please Excuse My Craftermath… // 22. Dragonfly & Lily Pads // 23. The Thinking Closet // 24. Simply Kelly Designs // 25. Sandpaper & Glue //