*I was provided with a free copy of this book for review purposes. All thoughts and conclusions are my own*
I was lucky enough to be included in a virtual 'book tour'  to celebrate the print release of Homestead Cooking. You can buy the e-book version  Homestead Cooking with Carol: Bountiful Make-ahead Meals from Amazon
 [affiliate link] but the print copy is only available at Everything Home with Carol.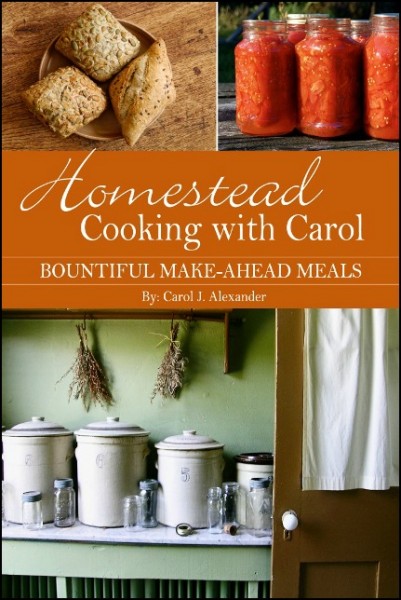 This isn't a typical cookbook, in fact if you're looking for a book with hundreds of recipes this one isn't for you at all. Instead of thinking of it as a cookbook think of it as more a skill set.
Cooking from a garden or even a small farm is truly an art. It's easy to follow a recipe if you have a supermarket full of ingredients at your disposal but when you're working with what you have, either growing in the dirt, stored in the basement or sealed in glass jars a tome of exotic recipes isn't going to help you at all. Homestead Cooking with Carol has really done a great job of creating a starting point for cooking from your homestead and making it work with your very busy life.
Some of my favorite things in the book are all the new uses for the crock pot. We have three (yes, we each have our own crock pot Goldilocks-style) and in the winter we never go more than a few days without using one for chili or to cook a chicken. But I'm all about multiple uses and Carol has some great ideas to add to your crock pots resume. This leads us to the first thing in the book that I tried; a recipe for crock pot yogurt.
My boss makes his own yogurt and he explained his method that involves hot glass jars and a cooler (if that sounds like a good time a similar method is included in the book) but Homestead Cooking with Carol eliminated the need to handle hot glass and all you need is a crock pot, a candy thermometer, a gallon of milk and some live cultured yogurt. Bonus points: If you're like me and you like to confuse your husband don't tell him why you wrapped you crock pot in a towel on the kitchen counter. Actually, never tell him, just act suspicious and stare silently until he leaves the room.
So why yogurt? Well the other day I was looking at our recyclable bin when I noticed exactly how much freakin' yogurt my 3 person family was going though. In an effort to get healthier we've stopped buying bread/pasta/crackers and our snacking has changed. My husband has been taking yogurt to work and my daughter sucks the stuff down like candy. She's decided to be done with pureed food but still going strong on the yogurt. So that seemed like a great place to start. Not only is it cheaper to make at home, even buying the good milk from the local dairy, but I get to control what goes into it. Even buying a good brand doesn't promise you aren't eating strange thickeners or sweeteners. Now if we want yogurt all I need is a few minutes and minimal supplies. I don't have any pictures because I live with yogurt vultures and it didn't make it that long.
Some other things I really liked:
Crockpot Granola – obviously I'm in love with my crock pot so this shouldn't surprise you
Meal stretching – I hate throwing out food. HATE. HATE. HATE. I love how she walks you through everything she does to use up one ham. 18 meals? Uh yeah sign me up!
Practical advice for dealing with large quantities, particularly meat. My husband hunts so once a year we get a lot of meat all at once. It can be overwhelming but Carol has a great guideline for planning out how to use and preserve it all without making a ton of work later. Likewise, gardens aren't like grocery stores. When it's time to harvest potatoes, it's time to harvest potatoes. You don't get to pick up your harvest incrementally in 5# bags as needed. You get a ton of potatoes (maybe literally) at once that you have to deal with. And Carol has a plan for that, which is great because I don't…
She puts feet in her stock. Aside from being incredibly creepy while stirring, chicken stock made with feet is THE BEST EVER. I didn't need a book to tell me that but it's nice to see I'm not alone.
This book might not be for you:
You're looking for 1,000 recipes
You need pictures to stay interested
As a chicken raising, butter churning, beet growing individual I'm pretty much smack in the middle of the demographic this book in intended for. But even if you aren't I really think this book has a lot to offer especially if you are at all interested in finding a practical solution to healthy whole-food eating that doesn't take all day.
Do I have your attention? Would you like a win a copy? Here is your chance!
a Rafflecopter giveaway