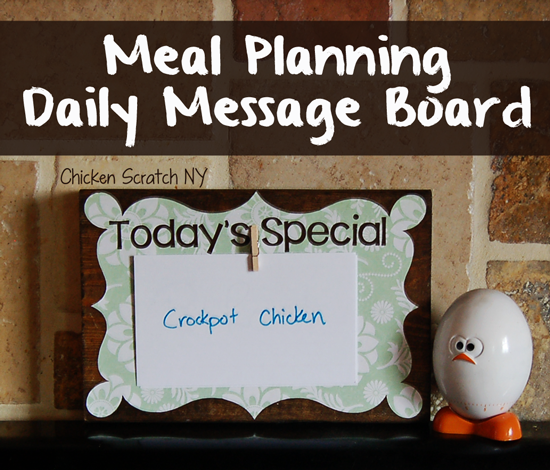 Sick of hearing what's for dinner? I whipped up this project using my cameo to put an end to that very question. (How do you like my slightly creepy egg timer?)
Supplies:
Wooden block
Spray glue
Patterned paper
Vinyl
Transfer tape or painters tape
Mini-clothes pin
Hot glue gun
Silhouette cutter
Instructions:
Open a new file in Silhouette Studio. Using the "Draw a Rectangle Tool" draw a box the size of the wooden block. Then draw a 3 x 5 box (same size as a standard index card.
Go to your library and open a fancy shape. Resize it by dragging the corner, I wanted it to be as large as possible. I used this artisan shape. Center the fancy shape inside the large box, making sure it its. Drag the small box inside the fancy shape, center it by using the "align center" command in the Align window. Move it down to make room for the text.
Add your desired text, this font is KG Behind these Hazel Eyes. Resize the font by dragging the corner box (using the corners keeps the proportions the same).
Once you're sure of how every thing will fit together you can delete the two rectangles, all you need to cut is the green shape and the text. Drag the text off to the side, off the mat and cut the fancy shape on the patterned paper. Move the text back and drag the shape off and cut the text out of vinyl (remember to change your settings!)
Use the spray glue to attach the patterned paper to the block. Transfer the text using transfer paper or painters tape, use an index card for spacing to make sure you keep the text high enough.
Hot glue the mini clothespin to the board.
Now your daily menu display board is complete! Clip an index card with the meal of the day written on it and the whole family will know what's for dinner. Now what are you going to do about all the index cards? Don't worry I've got you covered! Part two of this project will be revealed on Monday as part of the Silhouette Challenge.