I have a pile of stained wooden blocks sitting just inside the craft room door. Aka, I've been tripping over them for about a year. So when my sketch pen holder (finally) came in I decided to use it for the November Silhouette Challenge. The links to all the other posts are at the bottom so don't forget to check those out too! I believe there were 31 people this time around.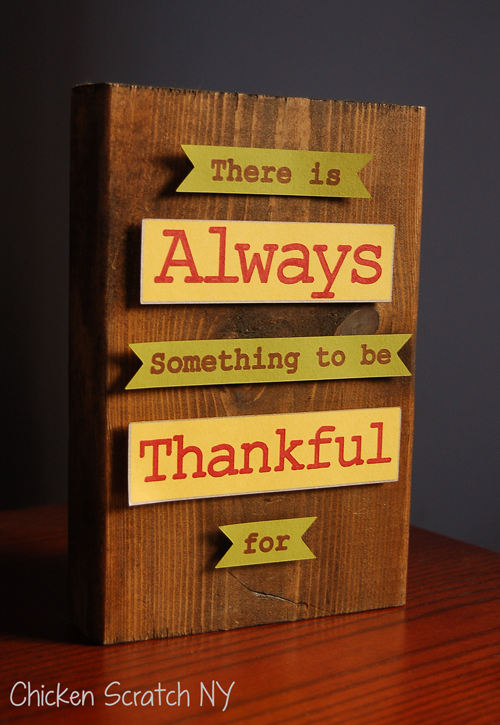 This is my first project using the sketch pen holder. There is a bit of a learning curve when it comes to using different pens but thanks to a few youtube videos and some trial and error I was able to figure out this project with only one marker fatality!
I set up this design to be drawn and cut on two colors using 3 pen colors. It was a little confusing making sure the correct outlines were selected (I wish the cut lines were highlighted when you were choosing your cut settings *hint hint Silhouette!*)
I used the font Courier New for the whole project; I believe it's one of the basic ones that comes on all computers. The text was skinny enough on the green pieces to completely fill itself in but on the yellow pieces I had to go back and fill in a few spots with the marker.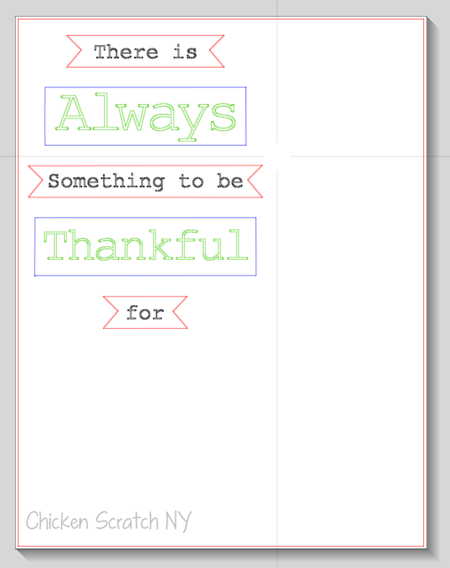 I used Bic Markit markers for the text and a metallic pen for the outline on the yellow boxes. During my testing process I managed to completely destroy the tip of one of the Bic markers, luckily I was smart enough to do my practicing with an ugly color so it wasn't much of a loss.
I was having trouble with the tip of the marker sticking out too much and getting flattened when I tried to sketch. I turned the thickness all the way down to one and I tried to put the markers in so they were hardly sticking out at all but my lines were ending up all wonky. I found a you tube video that recommended putting the pen in all the way (so you know it's centered) and then adjusting how far you put the pen holder in the machine. There is a little guess work involved but it's pretty easy once you get the hang of it. If you plan on using felt tip-style markers I 100% recommend you watch this video.
Back to the project! The metallic outline on the yellow boxes is 'sketched' on the same line as the cut line. The pen leaves a wide line and if you draw your outline and then cut on the same line it makes a nice outline for you. DO NOT unload your mat until the end when you are done sketching and cutting.
Here is the whole process outlined for you:
Green paper: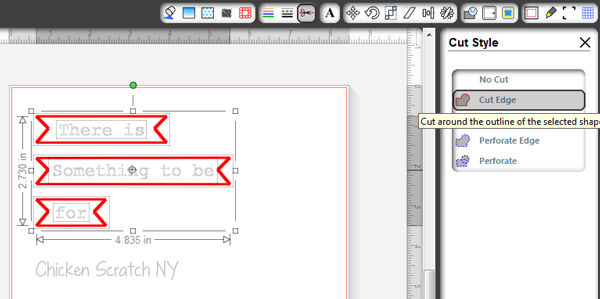 Select black text, select "cut" and sketch in brown (you can select more than one piece at a time by holding the SHIFT key)
Select red shapes, select "cut edge"  and cut with blade
Yellow paper: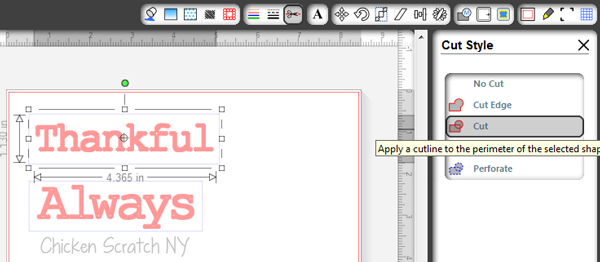 Select green text, select "cut" and  sketch in red
Select blue shapes, select "cut edge" sketch in metallic and then cut with blade
After the pieces were all cut out I attached them to a 5.5 x 8 inch piece of 2×6 stained with dark walnut stain with 3D foam squares (same one from the Pumpkin Garland).
You can download the .studio file or .svg file to make your own sign – please keep these for personal use only!
Want to Check Out More Silhouette Projects?
My Silhouette Challenge buddies are all sharing projects today on their blogs, so peruse the links below for a blog-hopping good time.
DIY Ironing Board Hangerby The Turquoise Home
Silhouette Challenge: Time Zone Bathroom Artby Nearly Handmade
Santa's Christmas Countdownby Tried & True
Nautical Anchor Pillow Tutorialby The Thinking Closet
Christmas Card Ornament with Free Cut Fileby unOriginalMom
Thanksgiving and Christmas Dual Signby Architecture of a Mom
Itching to Etchby Get Silvered
Snowman Tag ~ Silhouette Challengeby Whats Next Ma
DIY Horse Silhouette Pillowby Rain on a Tin Roof
Sketching on Fabricby The Sensory Emporium
Paper Leaf Garlandby Lil' Mrs. Tori
DIY Blessing Board – Silhouette Challengeby One Tough Mother
Christmas Pillowby Create & Babble
Glass Painting with Reverse Stencilsby Givemeapaintbrush
Chalkboard Thankful Treeby Cutesy Crafts
Bottoms Up! MYO Wine Tagby From Wine to Whine
'Happy Holly-days' Tags for the Swapby An Elegant Touch…
Thank You for Dinner (Card)by Everyday Paper
Advent Star Christmas Countdownby My Favorite Finds
Geometric Fabric Bowlsby Please Excuse My Craftermath…
Paper Carnivalby Home At Eight
Silhouette Cameo Tutorial: Dual Sided Business Cardsby Black and White Obsession
In Case of Emergency Baby Bag Tagsby Tossed Salad Life
Christmas On My Mindby Creative Turn
Jingle all the Way!by My Paper Craze
Christmas Lights Garlandby Making Home Base
We Are Thankfulby 4 You With Love
Seattle Skyline Silhouette by Sowdering About in Seattle
DIY Stenciled Mugsby Coley's Corner
Do you have a Silhouette machine?
Looking for Silhouette inspiration, support, trouble-shooting? Interested in joining us for our group posting event next month? Then, we'd love to have you join our Silhouette Challenge Facebook group. To join, simply fill out the new member request form, and Lauren from The Thinking Closet will get you squared away.