It's amazing how much freedom I've found in paleo cooking. [Paleo eliminates grains, sugar and dairy, though some people occasionally eat dairy] Mike and I started on January 2nd and we've already experimented more with food in 2 weeks than we did in the previous 6 years.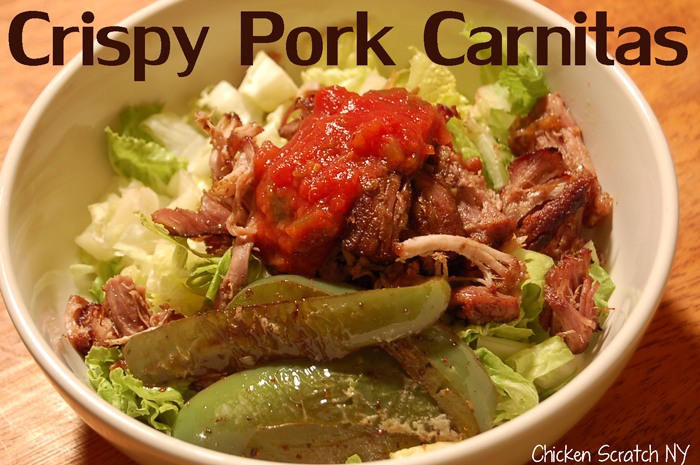 Before our paleo experiment we ate spaghetti, steak and potatoes and macaroni and cheese. Sure we'd pop open a can of corn or beans once in a while but our diet was mostly starch and pretty awful. We both gained lots of weight, we were sick and achy all the time. We made the deal to try paleo for one month without cheating and so far it's been amazing. We've tried new foods and lots of new recipes (I learned my steak-and-potatoes pierogi-adoring Polish husband loves curry). The first week sucked, I was dealing with a major caffeine  addiction as well as everything else. But I think we are starting to come out of the 'brain fog' and it's all down hill from here.
I thought I'd share one of our new found favorites. I found this recipe for Crispy Carnitas from Mark's Daily Apple. If you're at all curious about paleo check out that website!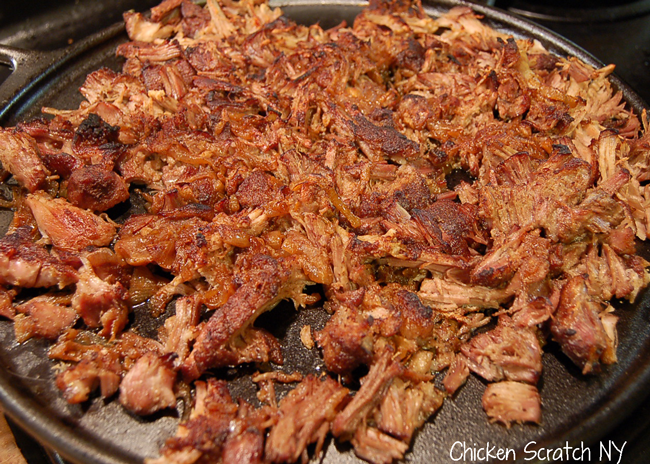 If you want to make some of your very own delicious carnitas you will need pork butt, an onion, some cumin, chilli powder, salt and water. Check out the link for the full break down. We used chipotle chili pepper and I ended up needing double the amounts of cumin and chili to cover all my meat. After you pat the seasoning onto the meat you place it in your pot, we used our cast iron dutch oven. After 3 hours we pulled it out, tasted a bit and managed to find the will power to shred it (shreds up with 2 forks) and placed it on a cast iron pizza pan under the broiler until crispy. By this point your kitchen will smell so good you'll be wanting to eat ASAP.
We each chopped up a romaine heart and topped it with some of the crispy porky goodness, some bell peppers sauteed with more chipoltle pepper and a little bit of salsa. The lettuce was a nice relief from the spicy heat of the meat. I can't even begin to explain how amazing the meat comes out. See all the little black bits? Those are your crunchy bits of yum.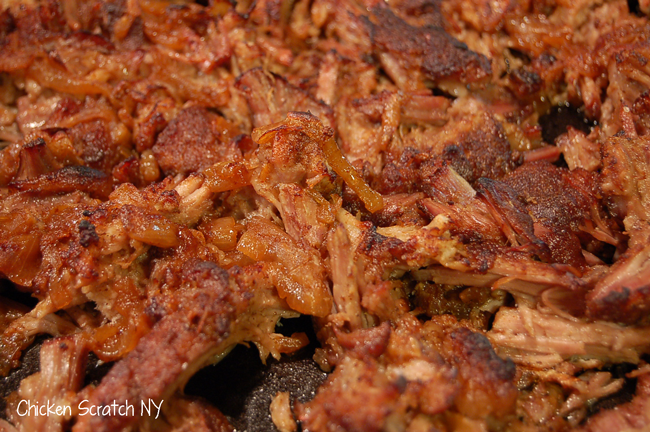 If you do happen to eat wheat and dairy these would be amazing in soft taco shells with sour cream (I'm drooling now so I'm going to stop with the dairy imagery)
This meal got two energetic thubs up from both the husband and I. We agreed that it's the kind of meal you could feed non-paleos and they wouldn't even mind!