I'm very excited to be part of  A Crafter's Dream Christmas Giveaway! This giveaway is hosted by My Merry Messy Life, Earning-My-Cape and Tutus & Tea Parties and has a Christmas, crafting, and supporting small business theme! Each blogger is offering her/his own giveaway worth $25 or more going on now through Sunday, November 4, 2012. You have more than 50 chances to win fun stuff here!
If you aren't familiar with the Chicken Scratch house, I have a country aesthetic with a lean towards handmade and natural elements. Today I am offering something a little different. The winner will receive 4 embroidered fabric squares. They can be simply framed or sewn into a beautiful table runners, wall hangings or pillowcases. The options are endless!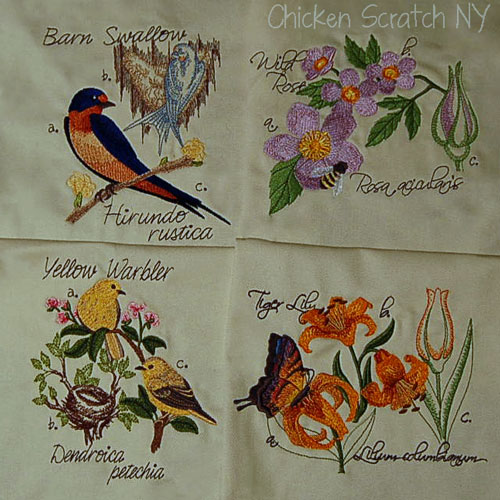 Included in this set are:
Barn Swallow Botanical, Wild Rose Botanical, Yellow Warbler Botanical and Tiger Lily Botanical
Each is approximately 6.5 x 4.5 inches on Cream colored organic twill with a generous seam allowance. Please note that this is thicker than Quilt Cotton!
Christmas is just around the corner, and the time to start crafting our gifts for friends and family is now.  Some of the blogs in the giveaway group will be giving away some awesome crafting supplies! Sometimes we want to give a handmade gift, but just don't have the time or know-how to make them ourselves. This is a great opportunity to support small businesses and shops who offer handmade items! Some of the blogs in our giveaway group will be highlighting such small businesses and offering giveaway items for them, as well. Even if you don't win the giveaway, we hope that you will keep these small businesses in mind when shopping for that perfect gift for your special someone.
Now you can hop from blog to blog entering as many giveaways as you want!