I haven't posted in a whole week! I was doing some 'behind the scenes' work on the blog. I got all my Christmas projects lined up fancy-fancy on their own page. And tried and failed to set up a drop down menu bar.
On Sunday I was featured on
Roadkill Rescue
 for my yellow Buffet!
And I spent Monday at Urgent Care…
On the farm front, we had 2 turkeys hatch. I didn't think either would survive so I never posted pictures. One made it (the one with deformed feet didn't) and he'll be getting his twist-tie leg hobbles off soon. He now lives with the three silkie chicks. 
Mamma Duck still has all 14 ducklings. She let them paddle around in the water dish today and it was adorable!
Top link last week was from my blog buddy
Veronica
. >
She shared here method of cutting up a watermelon (for those of you who don't see a watermelon as a single serving fruit…)
Our last link was this adorable Owl Cake from Jessica
It's so cute I want to hang it up on my wall and never let anyone eat it!
Congrats! You are are top of the pecking order (trust me, it's the best place to be!)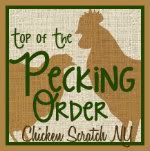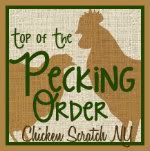 On to the party, here are the rules:
Link up any thing craft, food, garden, farm or photo related.
Please no giveaways or shops
Link up to a single post, not your blog
Pretty please link back with a text link or button!
It doesn't have to be on the post, just have it somewhere on your blog
Check out at least 2 other entries for everything you enter.
It's all about the love!
You don't have to be a follower but I'd love it!
Link up as much as you want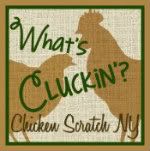 By linking up here you give me permission to use your photos if you're featured on my blog and to have your post added to my feature pin board. Maybe even on my
facebook page
and 
twitter
!