Lots of babies here on the Chicken Scratch Farm!
July 5th we had 2 Silkies chicks hatch. They are currently living in the spare room in a giant fish tank. They are tiny birds and I'm not sure the hen is up to keeping tabs on them with all the other things going on. She does seem to be pretty serious about the little puff balls though. Hopefully I'll get them hooked up with some protection soon so they can head out side
Wednesday night I was closing up the barn and found some peculiar egg shells underneath the nest boxes. A few seconds later I heard a soft peeping. As of right now I think there are atleast 8 based on the shells. Mamma duck is VERY serious about defending her babies. They will be the first batch of Mamma raised ducklings here. No pictures at the moment, Mamma is VERY protective. I snagged one to check on the age (very young, it was still wet) and she almost took off my hand.
I also shared my fancy Cow-mug-turned-pincushion
The giveaway is still running!
This weeks last link up was from
Craft A Spell
The first Paula Dean recipe I've ever wanted to eat!
Congrats! You are are top of the pecking order (trust me, it's the best place to be!)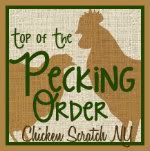 On to the party, here are the rules:
Link up any thing craft, food, garden, farm or photo related.
Please no giveaways or shops
Link up to a single post, not your blog
Pretty please link back with a text link or button!
It doesn't have to be on the post, just have it somewhere on your blog
Check out at least 2 other entries for everything you enter.
It's all about the love!
You don't have to be a follower but I'd love it!
Link up as much as you want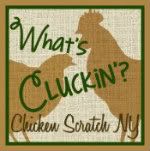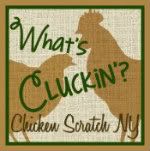 By linking up here you give me permission to use your photos if you're featured on my blog and to have your post added to my feature pin board. Maybe even on my new facebook page and twitter!