It's been a buy week here at Chicken Scratch
I also launched my new cookbook-centric blog:
We had a tie for top link last week. Strangely they were from the same person!
This weeks last link up was from
Shabby Redo For You
. Look Familiar? It was the inspiration for my AmeriCows
Congrats! You are are top of the pecking order (trust me, it's the best place to be!)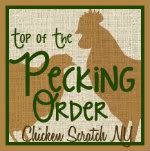 On to the party, here are the rules:
Link up any thing crafty, food, garden or photo related.
Please no giveaways or shops
Link up to a single post, not your blog
Pretty please link back with a text link or button!
It doesn't have to be on the post, just have it somewhere on your blog
Check out at least 2 other entries for everything you enter.
It's all about the love!
You don't have to be a follower but I'd love it!
Link up as much as you want
By linking up here you give me permission to use your photos if you're featured on my blog and to have your post added to my feature pin board. Maybe even on my new facebook page and twitter!
Google+