Today is a good day.
It's my one year anniversary of being a home owner!
That's right, we closed on our house on July 1st, 2011
And (because I'm clearly not busy enough) I decided to start a new blog!
I'll keep this one going but I'll be moving all the cooking stuff over to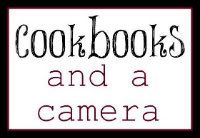 I'm hoping that by keeping things separate I'll keep my crafty followers happy here and the people that are in it for the food can get their fix over at CBC.
I've got one recipe up, I'd love for you to stop over and start following!
I'll have a grand opening giveaway up by the middle of the week!
Google+