If you can imagine it's been another busy week 'round here!
I've been to David's Bridal 3 times in 4 days. That's a lot for someone more used to muck boots than high heels. 
But, I got my dress! So it's all worth it in the end, one more bridesmaid and my flower girl need dresses and then we're done with that. Tomorrow we've having a 'sample dinner' and hitting up Men's Warehouse to figure out what we want for the men folk.
I'm still looking for Wedding Guest Posts! Please, please, please email me if you are the tiniest bit interested! Guest posts are a great way to promote your blog! Small, large or in between are all welcome. It can be something you DIYd for the day, pictures, reflections on what worked/didn't, what you wish someone had told you*, ect.
*I wish someone had told me the whole world** will see you in a crazy corset bra. But no one did.
**three people, one being my future sister-in-law and the other my mom
In other news, I joined a 90 day summer blog challenge, button is in the sidebar, so I'll be posting a lot more than usual! A special welcome to anyone stopping by the from hop!
Todays prompt was what makes you happy. Do you have to ask?
This was 6 months and 50 lbs ago…
The top-viewed link last week was from Mary at Sweetwater Style
She shared this fabric art re-vamp.
Congrats! You are are top of the pecking order (trust me, it's the best place to be!)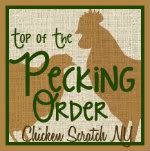 On to the party, here are the rules:
Link up any thing crafty, food, garden or photo related.
Please no giveaways or shops
Don't make me be the grinch!
Link up to a single post, not your blog
Pretty please link back with a text link or button!
It doesn't have to be on the post, just have it somewhere on your blog
Check out at least 2 other entries for everything you enter.
It's all about the love!
You don't have to be a follower but I'd love it!
Link up as much as you want
By linking up here you give me permission to use your photos if you're featured here on my blog and to have your post added to my feature pin board. Maybe even on my new facebook page (if I remember…)!
Google+