I love a challenge. So when I saw the
Wooden Stocking Holder "Create with Me"
project by U-Create I couldn't pass it up. The only real limitation was that they needed to be made from wood and made in November 2011. I really waited till the last minute, the pictures are due tomorrow. To be honest my final project looks
nothing
like my original idea. I'm happy with how it turned out, even if it's a little more 'girly' than I tend to go. I got everything for this project at Lowe's, with the exception of the pretty little bows.
Supplies (for each):
Green Tinted Wood Stain (I used the Fiddle head color by Cabot)
White Acrylic Paint
 4 inch scrap piece of 2×4
Royal Garnet Spray Paint
Drawer Pull
Hanger Bolt
Drill with large bit and small bit
 Step 1:
Stain the top portion of the fence post topper with green tinted stain. You could use paint but I wanted the wood grain to show through. Paint the bottom 'notch' white with the acrylic paint.
Step 2.
Paint the 5×5 cap with the white paint. When both dry screw together using the screw on the post cap. You have to twist pretty hard.
Step 3. 
No pics, this was a scramble in the garage and the camera was MIA. Mark the center of your 2×4 piece, drill a hole using the larger bit. This will be the hole for the end of the post cap screw. Pick the front side of your holder, drill a hole for the knob. Spray paint with the royal garnet. When this dries screw it on the the bottom of the 5×5 post cap. Basically you're making a wood kebab.
Step 4. 
Screw the non-pointed end of the hanger bolt into the knob. Screw the pointed end into the the hole you drilled into the wooden block.
You can find the hanger bolts with the screws, look for the orange section. 
Add a cute little bow and you're done! 
I know the stockings are missing, they are still missing from the move, along with a whole lotta decorations.
My First Feature!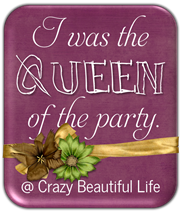 Linked to:
Google+